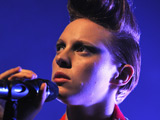 A pair of BBC 6 Music sessions featuring new acts La Roux and Little Boots collaborating with legendary artists have pulled in a record audience for a music event on the Red Button.
The two sessions, presenting synth legend Gary Numan performing with Little Boots and 1980s new wave act Heaven 17 combining with electro pop group La Roux, were recorded at the BBC's Maida Vale studio and broadcast on BBC 6 Music.
After filming the performances, all footage was made available via the BBC Red Button from January 29 to February 6, including 18 songs and exclusive artist interviews.
Over the period, a combined audience of 1.3 million viewers watched the content to make it the most successful music session material ever hosted on the BBC's interactive service.
"6 Music is uniquely positioned to curate performances that link the heritage of music to its future," said Radio 2 and 6 Music boss Jeff Smith.
"The phenomenal success of visualising these two 6 Music live sessions displays the voracious appetite that people have for unique musical collaborations.
"Having the opportunity to let so many people access them through the Red Button allows a digital radio station like BBC 6 Music to demonstrate the distinctive nature of what it does and what it stands for."
In December, the BBC
revealed
that an average of 11m people are now using Red Button services every week following record growth over 2009.
"2009 was our most successful year to date for BBC Red Button and it's great that we've kicked off 2010 with some more record-breaking figures," said BBC Red Button managing editor John Denton.
"It's clear that audiences love choice and the interactivity that the Red Button offers. These music sessions are a great way of giving audiences extra content that they can enjoy from the comfort of their living room."