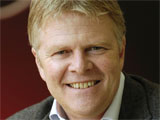 Virgin Media chief executive Neil Berkett will today describe the BBC Trust's consultation on IPTV joint venture Project Canvas as a "shameless whitewash", it has emerged.
According to
The Daily Telegraph
, Berkett will tell the Cable Congress in Brussels that the Trust's handling of Canvas calls into question its very existence as an effective governing body for the BBC.
In the speech, he will say that the Trust's year-long public consultation on the project "contravenes almost every principle of good regulation".
Last December, the Trust
confirmed
its provisional approval for the BBC's involvement in Canvas, which aims to upgrade the Freeview and Freesat platforms with video on-demand and internet services.
However, Berkett believes that the project will force all operators to use a single Canvas brand controlled by the BBC and its partners - ITV, Channel 4, Five, TalkTalk and
BT
.
He will further tell delegates at the conference that the Canvas initiative will work to penalise commercial rivals.
"The BBC Trust has stubbornly ignored all requests to address our concerns by imposing safeguards to prevent the BBC emerging as de facto gatekeeper of the digital world," he will say.
"This is a blatant demonstration that the Trust is incapable of regulating the BBC's activities in an objective way."
Sky has also long criticised Canvas, particularly in regards to the potential use of public money to distort the nascent market for IPTV services in the UK.
John Whittingdale, chair of the Commons culture committee, recently said that the project could ultimately be referred to the Office of Fair Trading.