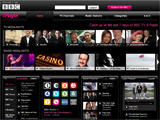 BBC director of future media and technology Erik Huggers has confirmed that the next iteration of BBC iPlayer will integrate with social media networks.
Speaking to
The Daily Telegraph
, Huggers said that the BBC has already agreed partnerships deals with
Facebook
, Twitter and Bebo. All three social networks will be embedded on the catchup platform when the iPlayer 3.0 beta goes live.
"We are close to launching the third version of the iPlayer in beta which will have many more social functions embedded within it," said Mr Huggers.
"People will be able to bring their Facebook friends onto the iPlayer so they can share what they are listening to or watching with each other more easily."
Users wanting to integrate their Twitter, Facebook and Bebo accounts on the VOD platform will be required to set up a BBC username and password.
After registering their social network accounts, users will be able to see what their friends/followers are watching or sharing via "coloured puffs" located beneath the player.
Huggers said that partnership agreements with Twitter, Facebook and Bebo had been in place for "some time", but iPlayer will be BBC Online's first real integration of the services.