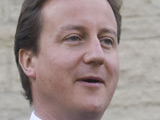 Conservative leader
David Cameron
has insisted that he is "pro-BBC" following a letter signed by entertainment stars against his party's plans for the corporation.
At the weekend, over 40 high-profile performers, including Peter Kay, Harry Enfield, Eddie Izzard and Catherine Tate,
called
on voters to save the BBC at the election on May 6.
The performers expressed concern about Tory plans to cut licence fee funding for the corporation, along with the party's "cavalier attitude towards the BBC's independence".
However, Cameron told the
Radio Times
that he is the "most pro-BBC Conservative leader there's ever been".
Cameron, who previously worked in the public relations department at ITV, also claimed that he fully comprehends the BBC's importance to Britain.
"I worked at ITV for seven years and you learn to respect the incredibly important role the BBC plays," he said.
"Competitors like the BBC because you're competing up here on quality rather than down here on price. I would never do anything to put the BBC at risk. Conservatives should be as proud of establishing the BBC as Labour are of establishing the NHS."
In the protest letter sent to
The Observer
, the entertainment stars claimed that the Tories are "attacking the BBC to serve the interests of its commercial rivals". They also expressed concern about a
pledge
in the Tory manifesto to scrap the BBC Trust.
Despite stressing his support for the BBC, Cameron said that the corporation must "retrench a bit" from its current scale.
BBC director general Mark Thompson's strategy review recently outlined ambitious plans to reduce the BBC's size and scale in what is viewed as an effort to placate a potential Tory government.
Among his recommendations, Thompson controversially called for the closure of digital-only radio station BBC 6 Music to give more room to commercial rivals.
Cameron said that the closure of 6 Music is "up to the BBC", but he welcomed efforts to refocus the corporation on "what matters most".
"They were trying to do too many things and they're right to focus on doing good things well. There was a moment the BBC had overreached on magazines, websites, [acquiring] Lonely Planet," he said.
"I think they do need to retrench a bit and focus on what matters most. So while I might like listening to Radio 6 [Music] because it's my sort of music, you can't do everything."
When asked about his television habits, Cameron said that Sunday is his big viewing night and he often enjoys crime shows, such as
Silent Witness
and
Waking The Dead.