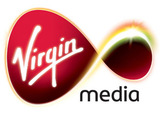 Virgin Media
has pulled in a net total of 38,000 new subscribers over the first quarter of 2010, the highest ever quarterly growth since the company formed four years ago.
Over the three months to the end of March, the cable operator added 46,600 more digital TV subscribers, up 13% year-on-year. The firm's digital TV base now stands at 3.7 million, including just under 1m homes taking the V+ high definition service after 77,900 more V+ subs were sold over the quarter.
Nearly 60% of Virgin's TV subscribers regularly use the firm's video on-demand services, with average monthly views standing at 68m, up 24% year-on-year.
Buoyed by the success of its 20Mbps and 50Mbps packages, Virgin added 72,300 more broadband subscribers over the quarter, up 53% year-on-year. The firm also surpassed the one million mark in its mobile contract subscription base after adding 81,200 subscribers over the quarter, up 45% year-on-year.
The strong subscriber growth was further buoyed by a record low churn rate of 1.1%, along with 61.9% triple-play penetration and 11% quad-play penetration. Average revenue per user (ARPU) was also up 5.3% to £45.01.
Virgin Media's overall revenue was up 2.9% to £963m, while operating cashflow increased 14.1% to £356m. The firm also
recently completed
a three-year refinancing programme to reduce repayments from £4.8 billion by 2012 to just £325m by 2013.
Neil Berkett, Virgin Media chief executive, said that the firm's "fastest ever" quarterly growth was down to a combination of higher gross additions, low churn and increased ARPU.
"We are developing our services to exploit our natural network advantage, both now and in the future," said Berkett.
"More customers than ever before are choosing faster broadband and every day millions of our customers are enjoying the benefits of the video on-demand revolution we are leading. On average our customers pressed 'play' more than two million times a day, every day in the last three months
"The latest addition to our set top box range, the
V HD Box
, will also enable more Virgin Media customers to enjoy HD television without an ongoing monthly fee."
He added: "Finally, we have completed the last step of the refinancing of our debt, leaving us with a long-term 'fit for purpose' capital structure that supports our ambitions to lead the market as the digital provider of choice."
Earlier in the week, Virgin Media also
launched
a new online movies service offering hundreds of new and library titles available for rent to PCs, laptops and connected TVs.