Tech News
Government urged to tackle digital divide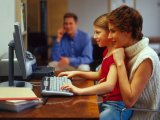 Martha Lane Fox, the UK's digital champion, has called on the government to tackle Britain's growing digital divide and change the way it thinks about the web.
Lane Fox, the co-founder of Lastminute.com and karaoke bar chain Lucky Voice, was appointed the government's digital champion in June 2009 on a two-year mission to increase digital inclusion. In March, her role was expanded to include setting up a new Digital Public Services Unit within the Cabinet Office. She also sits on the board of Channel 4.
Today, Lane Fox will hand over her
Manifesto For A Networked Nation
to Prime Minister David Cameron at Number 10. The report, which is part of the Race Online 2012 campaign, includes a range of proposals to create a 100% networked nation by 2012. The UK currently has 40m internet users, with 30m using the web every day for a variety of purposes, including work, leisure, health and education. However, the report claims that there are 10m people who have never been online, meaning that they are in danger of becoming "even more isolated and disadvantaged as government and industry expand ever faster into digital-only services".
Of the 10m web abstainers, 4m are classed as being the "most disadvantaged" in society, while 39% are over 65, 38% are unemployed (including 270,000 on job-seeker's allowance) and 19% are families with children. As an increasing number of services migrate online - including entertainment, public information, retail and news - there are growing fears that these people will be left behind in the digital world.
Speaking to
Digital Spy
, Lane Fox said that almost "every single part of our lives" now has some kind of online component. The government and news agencies are increasingly seeking people's views online, while users can do vital tasks, such as their tax return, on the web. Many companies now only offer online instructions for their products and websites such as Facebook and Twitter are becoming key social resources.
"We can put our heads in the sand or we can make a focused, concerted effort to make massive inroads into the issue," said Lane Fox. "I personally don't want to the live in a society that is any more divided than the one we already live in. This, to me, is one of the very practical things that we can do to create a much more joined up conversation for everybody in the UK."
Last week, a report by The Joseph Rowntree Foundation revealed that a computer and home internet are now no longer viewed as luxuries by British people, but essential items towards achieving a "socially acceptable standard of living". Separate research conducted by PricewaterhouseCoopers has estimated that the benefit of getting everyone in the UK online would be at least £22 billion to the economy. The Networked Nation report also claims that having home internet for families could mean the difference between a child getting an A or a C grade at their GCSEs.
The Universal Service Obligation (USO), laid out by the previous Labour government, pledged that the state will guarantee broadband of a minimum speed of 2Mbps to every UK household by 2012. Virgin Media and BT have recently invested heavily in their networks, but they are still some way off reaching the entire population. A major issue is bearing the cost of serving rural areas, although culture secretary Jeremy Hunt
recently confirmed
that part of the surplus cash from the digital television switchover will go towards three broadband pilot schemes in 'hard to reach' areas.
For Lane Fox, though, creating a networked nation in the short term is not about getting a connected computer in every home, it's more about providing community gateways using existing equipment for disadvantaged people to access the web when they need it.
"From our document, we are not saying that everybody has to have a computer in their home hooked up to the internet," she said. "We very much believe that it is about having the community gateways and access points so that people can be signposted to places where they can access web services. There are libraries, there are GP surgeries, UK online centres, community centres, there is the schools network. That is thousands of pounds' worth of IT equipment invested in communities and what we want to is to ensure that everyone can be guided to somewhere to use the internet."
Lane Fox is calling on the government to create a "joined up" community of internet hubs to better exploit the money that has already been spent on information communications technology. She believes that this is firm action that the government can take in the short-term as it works towards universal broadband coverage.
"Universal coverage is a worthy aim but there is a lot we can do while waiting for that to arrive," she said. "But for me, you can have all the websites out there that you like but that doesn't mean that people will engage with them. We have got to create those motivations and inspirations."
For Lane Fox, social inspiration is as much a part of tackling the digital divide as providing the underlying infrastructure of universal broadband. Some people, particularly among the older generations, still believe that the internet offers no benefits to them and so the challenge is changing that mindset.
"I would just like to have the opportunity to see everybody experience the joys of the web. Not to ask people to live their lives on it, just use the bits that will help them in their daily life," she said.
"For me, the total joy of doing this role has been going to see those community projects that have really brought people together in their communities around using technology, such as building websites or having a voice where they didn't have one before. Those are the sort of things that I would like to see more of across the country."
The Networked Nation report includes a range of recommendations, such as a call for more companies to sign up to Race Online 2012 to help inspire people to get online.
TalkTalk
, a committed Race Online partner, has recently announced plans for existing customers to sign up their offline parents and grandparents to discounted broadband packages. Google is also developing online tools to make the web more accessible for over-65s and retailer Comet is looking at low-cost hardware packages.
However, recommendation eight in the report is possibly the most interesting, it says: "We should work towards ensuring that people should have easy and affordable access to the internet in the same way they can access water and electricity or gas." In Finland, it was recently made a human right for all citizens to have access to broadband of a minimum speed of 1Mbps. Lane Fox stopped short of calling for similar action in the UK, but did claim that it's no longer of question of whether people deserve to have broadband.
"It's not a question of whether broadband is a good or bad thing anymore, it's just a tool and we just have to see how we can maximise its value. That is not really in debate anymore," she said.
"If that is how the Finns want to approach it then I salute them, but I don't think it needs to be a human right, rather we just need to understand and appreciate its importance so that more people can enjoy it."
Another recommendation in the report calls for government to change the way it approaches online services to encourage more engagement. Lane Fox said that her role is to be a "critical friend" to the government, which means encouraging the state to "lead by example".
"It's very important to push the message out that this is something that we as a nation need to address and that will hopefully cascade down into local government and the community. That individual leadership is incredibly important," she said.
"Probably the hardest thing is for government to become the leader in the delivery of services online. They need to realise that continuing to communicate with people by paper or by phone isn't helping them and isn't helping government. Changing the fundamental approach to how they do things is really important."
The UK is currently in the midst of large-scale public sector cuts to all departments as the new coalition government attempts to tackle the massive budget deficit. Lane Fox accepted that there is pressure on all public services at the moment, but she is convinced that the government sees the social and economic case for tackling the digital divide.
"There is no denying that the social and moral case is equally matched by an economic case, and government knows that it has to transform itself. And a lot of that will be about digitisation," she said.
"So, yes of course the cuts are going to strike hard. I don't work in the civil service but it must be a tough place to be right now. But government should be encouraging people to get online so that it can help them but also help itself. It's an exciting time, though, and I hope that it will go well."