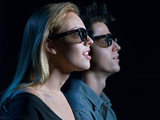 Virgin Media
has today gone head-to-head with rival Sky by launching a new 3D movies on-demand service for its cable TV customers.
Powered by the Disney/Sony joint venture FilmFlex, the 3D Movies On Demand service will offer a selection of 3D films and TV shows on Virgin Media's existing VOD platform.
The service will be available to all Virgin Media customers with a V HD or V+ HD receiver and a 3D-ready TV set with polarising glasses.
British movie
StreetDance 3D
is currently available to rent for £5.99, while more 3D movies will launch over the coming months, including
Garfield's Pet Force 3D
next month,
Disney's A Christmas Carol 3D
in November and
Step Up 3D
in December.
Virgin Media plans to "build its 3D portfolio" over the coming months as more people purchase 3D televisions sets. The company has also agreed an exclusive 3D TV partnership deal with Samsung Electronics to jointly promote 3D to customers.
Cindy Rose, executive director of digital entertainment at Virgin Media, said: "We're really excited to bring a taste of 3D to our customers in the comfort of their own homes.
"As we've already seen with the take-up of high definition programmes, viewers are continually looking for new ways to experience their favourite shows, and with the addition of 3D on-demand, they will be able to watch eye-popping movies whenever they want!"
The timing of Virgin Media's 3D on-demand service appears to be linked to Sky's new 3D channel, which will
launch
on Friday offering a range of sports, movies and entertainment content in 3D.
Back in March, Virgin Media head of media relations (consumer) Asam Ahmad
revealed
that the cable operator views 3D as "special occasion" viewing more suited to on-demand availability.
Ahmad expressed his belief that viewers will be more interested in picking and choosing what 3D content they want to watch than accessing a specific schedule.