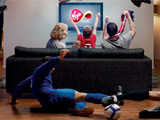 Virgin Media
has agreed a partnership deal with Persimmon Homes that will see its cable services being pre-installed in new-build homes around the country.
In areas covered by Virgin Media's fibre optic network, selected Persimmon new-build properties will be constructed with built-in access to the cable operator's broadband, TV and telephone services.
Homeowners in non-cabled areas will have the option to connect to Virgin's national service delivering up to 20Mb broadband over telephone lines.
Persimmon's showhomes will feature interactive demonstrations of the Virgin product range, including ultrafast 50Mbps broadband, high definition TV and video on-demand.
Prospective buyers will be able to work with Persimmon to design their future property's bespoke communications and entertainment infrastructure, with options for specifically-tailored wireless networks to suit their lifestyle and needs.
"Fast broadband access and engaging entertainment sit at the heart of any leading-edge household today," said Karen Glyn, commercial director for Persimmon's North region.
"We build every home with its future owners in mind so I'm delighted to be working with Virgin Media. Together we will ensure our customers can get the best home technology and are able to make the most of a connected digital home first-hand."
Virgin Media director of sales for new build Steve Carlin added: "Virgin Media's partnership with Persimmon Homes can take a little bit of the stress out of setting up home as well as allow more people to enjoy our next-generation services as soon as they move in.
"We all want to be able to watch, share and access our entertainment at home and Virgin Media's services really help customers to make the most of their technology."
Virgin Media is currently expanding its fibre optic cable network to bring next generation services to a further 500,000 UK households. It is also
running trials
of aerial deployment of 50Mpbs broadband via utility poles in parts of Berkshire and Wales, as a way to serve hard-to-reach rural areas.
The cable operator further plans to expand its super-fast broadband network by
using the infrastructure
owned by BT, including telegraph poles and ducts.