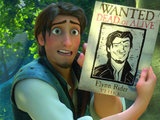 LoveFilm
has agreed a more wide-ranging video on-demand deal with The Walt Disney Company as it seeks to further grow its digital business.
Under the agreement, LoveFilm gets transactional video on-demand (TVOD) rights to a range of new Disney movies, essentially enabling it to stream films via pay-per-view to subscribers.
However, the company has also crucially secured subscription video on-demand (SVOD) rights to a raft of library titles, becoming Disney's first major SVOD partner in the UK outside of the pay-TV window.
LoveFilm subscribers will be able to rent and stream movies such as
Bedknobs And Broomsticks
,
Armageddon
and
Cocktail
at no extra cost.
New releases from the studio, such as
TRON: Legacy
,
Tangled
and
I Am Number Four
will be made available to watch online via TVOD. LoveFilm already rents new Disney DVD and Blu-ray titles via its postal service.
"Our customers will be excited to have even more great films alongside our existing physical and digital titles," said Simon Calver, the chief executive of LoveFilm.
"This is a great endorsement of the popularity of LoveFilm, as Disney is one of the world's leading studios. We look forward to working with Disney across new products as we expand our service."
Catherine Powell, general manager of media distribution at Disney EMEA, added: "We're working with innovative partners such as LoveFilm to offer our programming to viewers in evermore flexible, easy to access ways, and this agreement builds on our existing DVD rental partnership to further extend the availability of our films amongst UK audiences."
LoveFilm, now wholly owned by Amazon, wants to enhance its online subscription offering, but has been hindered in the UK by Sky's near universal control over SVOD rights.
As part of the Competition Commission's ongoing investigation into the pay-TV films market, the regulator said in February that Sky was
making "excessive profits" from its movies service
.
A possible solution to the situation would involve preventing Sky from signing exclusive deals with all the major studios, meaning companies like LoveFilm could benefit from getting greater access to subscription movies.
However, Sky's financial muscle means the firm can pay significantly more than most other providers can afford - the firm paid £343 million to the Hollywood studios in 2008, falling to £272m last year.