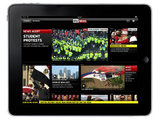 Sky
News has today announced the appointment of Andrew Hawken as its new head of digital media, responsible for driving forward the broadcaster's multi-platform strategy.
Hawken will work across all Sky News' digital platforms, including online, the RTS award-winning iPhone app, interactive TV and
the recently launched Sky News iPad app
.
He will oversee all editorial and technical teams focused on expanding and developing the Sky News multiplatform offering, as the broadcaster attempts to serve viewers with extended news coverage.
Hawken joined Sky in October 2006 as editorial director for the company's online portal, helping to grow unique users across the network by nearly 50% to around 10 million per month. Previously, he was general manager of MSN.com, handling all editorial, planning and product development for the website.
John Ryley, the head of Sky News, said: "Andrew's huge wealth of editorial and new media experience puts him in prime position to drive forward Sky News' digital offering.
"Sky News has always been at the forefront of the digital media arena and I'm confident Andrew will guarantee its future success."
Last week, Sky News
announced that its royal wedding coverage brought in 590,000 unique users on mobile
, generating more than 4.9 million page views. A further 35,000 customers enjoyed the coverage via the Sky News iPad app, a 225% increase on the service's daily average usage.