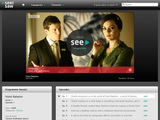 Arqiva
is to shut down its SeeSaw online TV venture after failing to secure an investment partner to keep the service going.
The transmissions operator will close SeeSaw in June, just 16 months after the
video on-demand website launched
offering catch-up and on-demand content from broadcasters such as the BBC, Channel 4 and MTV.
SeeSaw chief executive Pierre-Jean Sebert
left the company in February this year
after Arqiva merged its three divisions into two, meaning SeeSaw shifted to the broadcast and media unit, run by Nick Thompson.
Arqiva appointed Ingenious Media to find an investment partner or buyer for SeeSaw, but the company informed the website's 28 staff last Friday that the search had been unsuccessful.
SawSaw said in a blog post: "We're sad to announce that next month will be the end of the road for SeeSaw. Launched in February last year, SeeSaw has become a great place to watch TV for millions of UK viewers. However, following a strategic review of its business activities Arqiva, our parent company, is no longer able to support the service.
"As it will soon be 'goodbye' from SeeSaw, we'd like to take this opportunity to say a big 'thanks' for all your support, custom and loyalty over the last 16 months. We're a small team but we hope we've made a big difference and that you've had fun watching TV with us."
Arqiva created SeeSaw after spending £8m to acquire the technology developed for Project Kangaroo, the BBC Worldwide, ITV and Channel 4 IPTV joint venture that was blocked by the Competition Commission.
SeeSaw is expected to officially shut down around June 20 and costs related to the business will be included in Arqiva's current financial year.