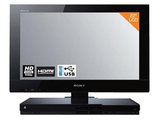 Sony
has today launched a new free on-demand streaming service offering a range of 3D content on its connected TVs, including the recent Wimbledon coverage.
Owners of Sony's 3D-ready LCD TVs featuring BRAVIA Internet Video can now access the 3D Experience, offering 3D clips and trial content from a wide variety of genres, including movies, music, sports, games and documentaries.
Sony said that there are about 30 titles available at launch, including highlights of the BBC's 3D coverage of Wimbledon that was
recently aired live on television
, along with trailers to
Green Hornet
in 3D and 3D PS3 games.
The service is available on TVs in the UK, Germany, France, the US and Canada, and there are plans to launch on 3D Blu-ray players and home theatre systems in the future.
A minimum internet connection speed of 6Mbps is required to watch the content, but Sony recommends users to have a web speed of around 10Mbps for the optimum experience.
Speaking about the 3D Experience, Sony UK proposition development manager Edd Uzzell said: "Sony is committed to creating great 3D experiences by combining the best content with a full HD 3D.
"This free service delivers exclusive content directly to your home via any BRAVIA 3D TV and straight out of the box. We will continue to work with partners to give our customers access to more great 3D entertainment."
The 3D Experience complements the existing content lineup of services on Bravia Internet Video, including YouTube, Facebook, BBC iPlayer and LoveFilm.
Yesterday, movies subscription service LoveFilm
announced plans to increase its London-based workforce by a fifth
following its full acquisition by Amazon earlier in the year.