0
Tech News
'Channel 4 News' comes to 4oD platform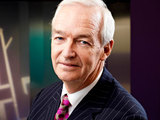 Channel 4 has announced that its flagship news programme will now be available for catch-up via video on-demand platform 4oD on computers, smartphones and tablet devices.
The 7pm bulletin, presented by
Jon Snow
and Krishnan Guru-Murthy, will be offered for 24 hours after broadcast on 4oD, including
the recently released iPad application for the service
.
The broadcaster hopes that the move will open up options to those who are unable to watch the bulletin at its scheduled time, alongside the one-hour timeshift service at Channel 4+1.
"People who watch the programme outside of our scheduled slot are becoming an important part of our audience," said Martin Fewell, the deputy editor of
Channel 4 News
.
"We know that our viewers tend to be tech-savvy, and we want to make it easier for them to join us at their convenience, so it's good to be joining the best of Channel 4 on 4oD."
Vicky Taylor,
Channel 4 News
commissioning editor of new media, news and current affairs, added: "4oD is the most successful commercial player in the UK VoD market, and it is steadily growing.
"It makes sense that
Channel 4 News
, a cornerstone of the schedule, is also available through that platform, in addition to the catch-up options provided by our app and by the
Channel 4 News
website."
The arrival of
Channel 4 News
on 4oD comes ahead of
the relaunch of the catch up platform on the Channel 4 website this Wednesday
, offering a raft of new features including more personalisation options and "viewer-driven" recommendations.
Users of the new service will also be able to create 'My 4oD' for the first time, opening up options for compiling playlists of shows they want to watch, as well as functionality for keeping track of programmes proving popular with others.
At the Edinburgh TV Festival this weekend, Channel 4 chief executive David Abraham
said that the next decade will be all about getting "connected" with viewers
, as broadcasters search for ways to turn convergence into cash.