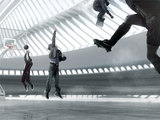 Eurosport
has reached the significant landmark of 5m downloads of its mobile applications, just two years after the sports broadcaster first entered the mobile apps market.
The company also said that up to 650,000 unique users now access a Eurosport mobile app for services such as live video, scores and sports news every day.
Two years after the free Eurosport.com live sports news app was launched for the iPhone, there have been more than 5m downloads of Eurosport apps on the iPhone, iPad, Blackberry and Android.
According to a recent study carried out by Paris institute Opinion Way for Eurosport, 85% of users polled said that the Eurosport.com app has become "an indispensible part of their daily routine".
Eurosport launched a premium live streaming app for the iPhone and iPad in May last year, and revamped the Eurosport.com app last December.
A new live scores iPhone app and website was
released in August and a mini-site for the Rugby World Cup is planned by Eurosport for later in the year
.
"In just a short time, mobile has become a very important part of Eurosport's multimedia offer, and it is now key to helping us deliver on our brand promise of giving fans the best sports entertainment experience on the device of their choosing," said Laurent-Eric Le Lay, the chairman and chief executive of Eurosport.
"The strong consumer engagement figures are good news not only for the sports fans but for our clients and advertisers, as we can guarantee the right multimedia environment in which to raise awareness of their brands."
Eurosport enjoyed a record day on August 28 on its web and mobile platforms, with more than 4.2 million unique visitors accessing the broadcaster's coverage of the IAAF World Athletics Championships in Korea.
This week, Channel 4
dropped The Gadget Show's Ortis Deley as the main presenter of its world athletics championships coverage on TV
following a series of embarrassing gaffes.