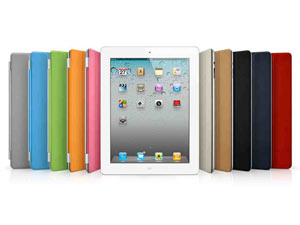 Apple's dominance of the global tablet computer market will remain unchallenged throughout 2011 and stay strong right up to 2014, a new report has revealed.
According to a special report by analysts Gartner, the iPad is expected to account for 73.4% of worldwide media tablet sales this year, followed by devices running the Google Android operating system, at 17.3%.
Apple's share of the market is down from 83% last year, but that is mostly because there are many more tablet products now available, including models from Samsung, Motorola and Blackberry.
However, Gartner does not expect any other manufacturer to have more than 5% of the market in 2011.
Carolina Milanesi, research vice president at Gartner, said that Apple's market share is likely to remain more than 50% by 2014, largely because the company "delivers a superior and unified user experience across its hardware, software and services".
Milanesi said that competitors must work harder to respond to the challenge, and produce a product that can seriously counter Apple's dominance.
"Apple had the foresight to create this market and in doing that planned for it as far as component supplies such as memory and screen," she continued.
"This allowed Apple to bring the iPad out at a very competitive price with no compromise in experience among the different models that offer storage and connectivity options."
Kantar Worldpanel ComTech
found recently that a portion of the UK tablet market is still up for grabs
, as a third of the potential consumers (28%) are currently undecided on which product to purchase. Figures suggest that up to 2m people in Britain will buy a tablet computer in the next year.
A separate survey by Citigroup of 1,800 of its clients in the US, UK and China revealed that tablets are mostly used for recreational purposes rather than business uses.
Nearly two-thirds (67%) of people were found to use an iPad for general web surfing, followed by 55% for email or instant messaging. Only 15% claimed to use the device for work or productivity applications.
Earlier in the week, an analyst
predicted that Apple will release two new iPhone models this year, but will wait until 2012 to unveil the third iteration of the iPad
.