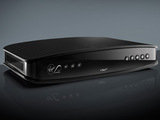 Virgin Media
has the biggest proportion of dissatisfied customers for landline, broadband and pay-TV services, according to Ofcom's latest customer satisfaction tables.
This year, Ofcom began regularly publishing information on the highest and lowest-rated communications providers for customer services in an effort to drive up standards.
In September, the regulator conducted 3,000 interviews and various online surveys of customers of landline, mobile, fixed broadband and pay-TV operators with a market share of 4% or more.
Virgin Media has traditionally fared reasonably well in terms of customer service, but these latest results show that the cable operator now has the most dissatisfied customers across phone, internet and TV services.
In fixed broadband, almost a fifth (19%) of Virgin Media customers were dissatisfied with their service, ahead of BT with 18%, TalkTalk/Tiscali with 17%, Orange with 16% and Sky with 15%.
Satisfaction rating for Virgin Media was 57%, level with BT and ahead of TalkTalk (55%), but behind Sky, which had 64% of its customers satisfied with their service.
Ofcom said that connection speed remains the biggest issue for broadband customers, despite recent figures showing that Virgin offers some of the most reliable line speeds in the UK. Another big issue for users was changing package or service.
Virgin Media also fell behind in terms of landline services, with 22% of its customers dissatisfied, exactly double the percentage that were not happy with Sky's telephony services.
Ofcom said that Sky's landline customer service had a "significantly above average" satisfaction level, at an impressive 74%, with customers "particularly pleased that advisers took their questions or issues seriously, were willing to help resolve issues, and offered a goodwill payment or compensation".
However, Virgin Media customers were less satisfied than average with the firm's customer service, largely because there was an increase in the number of issues not being satisfactorily resolved, showing an overall decline in customer loyalty since February 2011.
Sky also pipped Virgin Media in the pay-TV sector, with 70% of its customers satisfied against 62% for Virgin Media, while just 10% of Sky's satellite subscribers were dissatisfied against Virgin's 16%.
Ofcom also studied the mobile phone providers, finding that O2 and Everything Everywhere partners Orange and T-Mobile led the way with 72% of their customers satisfied.
Three was bottom of the list, with only 60% of its customers satisfied and 19% dissatisfied, just behind Virgin Mobile with 62% satisfied and 16% not happy.
Ofcom said that overall satisfaction with customer service remained lower in the fixed broadband (58%) and landline (61%) markets, compared with pay-TV (68%) and mobile (69%).
While Virgin Media has slipped down the rankings, Ofcom noted that TalkTalk and Tiscali have improved on various aspects of their customer services since they were
forced to spend almost £2.5 million compensating customers that had been wrongly billed for services
.
The regulator noted that TalkTalk's dissatisfaction levels have fallen according, although TalkTalk Group chief executive Dido Harding
recently warned that the company will probably not feel the effects in terms of customer growth until next year
.
Ofcom's consumer group director Claudio Pollack said: "Ofcom hopes that this research will both incentivise providers to improve all aspects of their customer service, as well as giving consumers valuable information about the standards of customer service when choosing a provider."
Earlier in the year, Ofcom introduced new rules forcing providers to ensure complaints are resolved in a fair and timely manner, or they can be escalated to two independent resolution bodies.
Ofcom said that it intends to open a "monitoring and enforcement programme" in early 2012 to check compliance with the new rules. Any companies found in breach could face a fine of up to 10% of their relevant turnover.