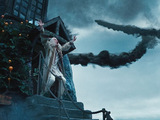 Sky
Movies has today launched on the Sky Go application for iPhone, iPad and iPod Touch, enabling subscribers to access hundreds of movies live and on-demand while on the move.
Sky Movies subscribers can now use Sky Go to stream all 11 Sky Movies channels live on their mobile devices over a WiFi connection. Sky said that 3G support will be added to Sky Go by the end of the year.
New movies available through Sky Go over the coming weeks includes
Harry Potter and the Deathly Hallows Part 1
,
Little Fockers
,
Black Swan
,
Gulliver's Travels
and
Limitless
.
Earlier in the month, a
dedicated Sky Movies app was launched for iPhone and iPad
offering listings of movies showing on the channels, along with trailers and 'remote record' options.
Sky Movies was also recently given an enlarged offering on set top box video on-demand service Sky Anytime+, including a range of pay-per-view films on the same day as their DVD release.
Sky Movies director Ian Lewis said: "Sky Movies on demand is a great addition to Sky Go and gives customers complete control over how, when and now where they enjoy the latest movies.
"Whether customers want to kick back at home and watch the latest movies in widescreen 3D or HD, catch a movie on the laptop while on holiday or at the office, or watch a blockbuster out and about on their phone or tablet, we've got it covered.
"Alongside other recent additions to Sky Movies like Anytime+ and 3D, the launch of Sky Movies on Sky Go helps customers get even more value out of Sky."
Sky said that the launch of Sky Movies on Sky Go marks the "latest step" in the expansion of the multi-platform service that launched in July offering live and on-demand access to various Sky channels, including Sky News and Sky Sports.
Sky Go has attracted nearly two million unique users, consuming more than 30 million pieces of content in October alone across more than 2.5m devices.
The Sky Go app will launch on Android devices in "the coming months" and the experience will be supported next year by around 5,700 public WiFi hotspots, including coffee shops, restaurants, and pubs, following
Sky's acquisition of WiFi network provider The Cloud earlier in the year
.
Sky Movies' growing digital strategy comes as competition in the movies streaming market intensifies ahead of the impending
launch of US movie rentals giant Netflix in early 2012
.
The Amazon-owned LoveFilm
recently signed a major content deal with Warner Bros
and retailer HMV has
launched its own on-demand movies service in partnership with FilmFlex
.