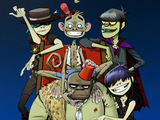 Gorillaz have today launched a promotional page on music streaming service
Spotify
, featuring exclusive content to mark the virtual band's ten-year anniversary.
Formed by Damon Albarn and artist Jamie Hewlett in 2001, the musical collective have released four studio albums and collaborated with the likes of
Snoop Dogg
, Dangermouse, Bobby Womack Little Dragon, Shaun Ryder and Lou Reed, among others.
Celebrating the release of
The Singles Collection: 2001-2011
, Gorillaz and Spotify have pulled together five weeks of exclusive and interactive content for users of the music streaming site.
The content includes a three-part radio programme hosted by Gorillaz characters Murdoch and 2D, covering the band's history and featuring live concerts not previously made available.
Users can also enter a competition to win a 'one-of-a-kind' MacBook Air customised with artwork created by Gorillaz artist Hewlett.
> Gorillaz announce a new cartoon member named The Evangelist
Watch the video for Gorillaz's hit song 'DARE' below: