0
Tech News
Apple's iPhone tops 2011 most searched list on Yahoo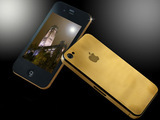 Apple
's iPhone was the most searched-for term on Yahoo this year, but there was no place on the top ten list for singer
Britney Spears
, according to data released by the search engine giant.
The iPhone led all search queries on Yahoo, largely down to intense interest around
the launch of the latest version of the smartphone, the iPhone 4S, in October
.
Yahoo is the second most popular search engine in the US, with a 16% share, behind Google's market-leading 65% share, but ahead of Microsoft's Bing with 15%, according to comScore.
Each year, the company compiles the top searches and trends based on nearly 700 million monthly unique visitors on its network of services.
In 2010, the BP oil spill in the Gulf of Mexico was the most searched story, but this year belonged to Apple's smartphone.
Quite surprising, though, was that Steve Jobs did not appear in the top ten, after the world mourned the Apple co-founder's death in October.
But Osama bin Laden did make it on to the list as the tenth most searched term following
his death in a raid by US Special Forces in Pakistan this summer
.
Second in Yahoo's most searched terms was Casey Anthony, who was sensationally cleared of the murder of her 2-year-old daughter Caylee earlier in the year in a controversial US legal case.
Reality TV star Kim Kardashian came third in the list, followed by singers Katy Perry and Jennifer Lopez.
The list in full runs as follows:
1. iPhone
2. Casey Anthony
3. Kim Kardashian
4. Katy Perry
5. Jennifer Lopez
6. Lindsay Lohan
7. American Idol
8. Jennifer Aniston
9. Japan earthquake
10. Osama bin Laden
In its
year-in-review blog post
, Yahoo noted that there was no place in the top ten most searched terms for Britney Spears, reflecting the singer's move away from the glare of publicity.
"What's notable is who didn't make the cut. For nine years, Britney Spears was a constant presence on the list, often in the top slot. This year, she didn't make the cut," said Yahoo.
"In the past, she's been popular as the musical girl next door, the trainwreck down the street, and the comeback pop princess. Other starlets have since stepped in to play those roles, taking the heat off Spears."
Yesterday, Ask.com revealed the most asked questions of 2011, which was headed by a poser about whether Kim Kardashian's short marriage to basketball player Kris Humphries was real or fake.
This was followed by "Is Justin Bieber going to be a dad?", and "Are Lady GaGa's face implants real"?
Teenage pop sensation Bieber was the most searched person on Microsoft's Bing search engine this year, followed by Kardashian, while the Xbox Kinect was the most-searched gadget.
A
New York Times
article featuring satellite images of the aftermath of the earthquake and tsunami in Japan was
the most-shared news story on Facebook
.
> Yahoo shares up on Alibaba takeover bid talk