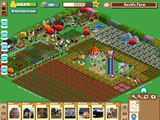 Farmville
maker Zynga has announced plans for a stock market flotation, with reports suggesting that the game's designer could raise as much as $1bn (£638m) from the move.
In a regulatory filing today, the company said that it will sell 100 million shares, or 14.3% of the company, at a price of $8.50 to $10 per share.
Should Zynga attract the $10 end of the IPO, the firm would command a valuation of nearly $7 billion, making it the third-biggest US games company based on stock market value, just behind publishing giants Electronic Arts and Activision Blizzard.
Zynga generates revenue by providing free games on platforms such as
Facebook
, but making money by selling extra content around games such as
Farmville
and
Mafia Wars
.
According to industry figures, Zynga earns 90% of its revenue through Facebook, but the firm set up an initiative in October, called Project Z, aimed at reducing its dependency on the world's largest social network.
It is understood that Zynga is in talks with Goldman Sachs and Morgan Stanley to manage what is expected to be a very closely-watched listing on the US tech exchange, NASDAQ.
However, the company has dampened expectations for the initial public offering after recent internet firm listings underperformed.
Discount deal service Groupon went public on the New York stock market last month, attracting a valuation of $12.7bn (£8.1bn), although its share price has since fallen around 20%.
Business networking website LinkedIn
saw its valuation almost double in May to $8.5bn (£5.3bn) after floating
, but the stock has since fallen by around 36%.
Also this week, fresh rumours emerged that Facebook is preparing for a public stock offering next spring, which
could generate up to $10bn (£6.4bn) for the world's largest social network
.