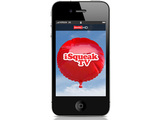 Freeview
has today launched a new iPhone app allowing users to transform their voice into a squeaky tone without the need for helium.
The free 'iSqueakTV' app, available now from the iTunes app store, enables users to record a phrase and then play it back in a high pitched tone.
Freeview said that it wants to "celebrate the best of this year's TV" by encouraging viewers to use the app to "recreate famous catchphrases, one-liners and mini monologues from their favourite shows".
The app works by 'sucking in' the virtual helium via the microphone and then delivering up to ten seconds of high pitched talk.
Users can upload their iSqueakTV videos direct to YouTube. They can also use the Twitter hashtag #iSqueakTV to automatically share any TV-related recordings to the competition gallery at www.freeview.co.uk/isqueaktv.
Each month, Freeview will reward the person who uploads the most entertainment TV talk with a top of the range Freeview+ HD set top box. Winners will contacted via email, or through Twitter.
Freeview new media manager Adrian Mack said: "We're on a mission at Freeview this Christmas to remind everyone just how much fun TV can be.
"What better way to do that than by asking the British public to recreate their favourite TV lines with a fun and free app?"
The app follows
the launch of Freeview's new £18m advertising campaign
, featuring helium balloons branded with the various channels and programmes available on the subscription-free digital terrestrial television platform.