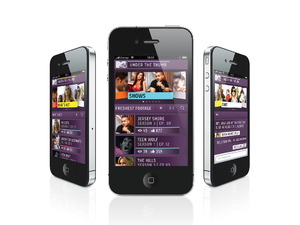 MTV
Mobile has today announced the MTV Under The Thumb app for Apple iOS and Android, a service which it claims will "redefine social TV".
MTV UTT offers a variety of MTV content for streaming on-demand, such as
Jersey Shore
and
Death Valley
, but the selling point is that fans can 'co-view' the shows with others, and then chat in real-time using the app.
Michel Dupont, a senior vice president at MTV parent company Viacom, said at the app's launch at Mobile World Congress that MTV UTT is aimed at the "always on" generation.
"Today's millennial generation is 'always on', works to its own schedule and watches TV in its own way. MTV fans are connected and driven by social media recommendations," he said.
"MTV UTT is an extension of the 360 vision for our linear shows and increases our digital footprint, enabling us to make our shows even more available to fans than before.
"It allows our fans to control MTV content on mobile and fixed devices, whilst providing an innovative co-viewing experience that enables them to simultaneously view and discuss on-demand content with their friends."
MTV UTT users are able to 'pair' their mobiles with any web browser, turning the device into a "fully functional" remote control for viewing the MTV content on a bigger screen, such as a computer, tablet or connected TV.
MTV also wants users to link the app with Facebook to share their favourite shows, while a real-time feed of MTV's celebrity gossip and entertainment news is designed to increase stickiness on the app.
The app will launch with programming from MTV's content portfolio including:
Death Valley
(Season 1),
Ridiculousness
(Season 1),
Mike Judge's Beavis and Butt-Head
(Season 9),
Flash Prank
(Season 1),
Jersey Shore
(Seasons 4 & 5),
I Used To Be Fat
(Season 2),
Teen Mum
(Seasons 1, 2 & 3, plus specials),
The Hills
(Season 6) and
Plane Jane International
. MTV said that 20 new episodes will be added each month.
Content on the site will be available to users depending on their subscription - The 'Tiny Thumb' tariff enables them to access just celebrity news, MTV highlights and a limited selection of episodes; the 'Super Thumb' deal unlocks more shows, seasons and content for a monthly fee of EUR 2.99 (£2.50) or an annual fee of EUR 29.99; and the 'Ultra Thumb' package offers free access to all shows and content for anyone who has an MTV Mobile handset contract.
The app will initially launch for iOS and Android in Germany, Holland, Belgium and Switzerland in March. There has been no confirmation as yet on a possible UK launch.