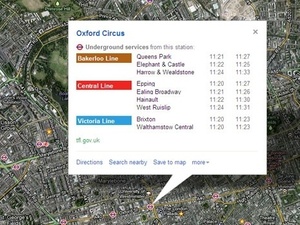 Google
has added live updates for the London Underground to its Google Maps service.
Users can now access train times and learn of any delays on their route by clicking on any of the stations on the overview screen.
"Whether you call London home or you're one of the expected 31 million tourists visiting the city this year, we know that the addition of service alerts to Google Maps will make your travels across the city easier, faster and more convenient," said Google executive Thijs van As.
Google integrated information on nationwide train timetables to its service earlier this year,
enabling users to plan their journeys across the UK.
Last month, the search engine giant added live traffic data to Google Maps, enabling drivers to calculate the shortest route to their destination. It is thought that this feature could eliminate the need for dedicated sat-nav applications.
The live tube updates can be access via PC, Mac and Android devices.
> Google Maps adds more detailed 3D landmark models