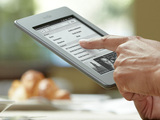 Waterstones has entered a partnership with
Amazon
to sell Kindle devices in its stores.
The high street retailer will also introduce free WiFi to all of its sites, enabling Kindle users to take advantage of exclusive deals on e-books.
Previous reports suggested that Waterstones was planning to take on Amazon in the e-reader market, with the success of the Kindle line attributed to the dwindling sales of physical books.
Waterstones managing director James Daunt said in a statement: "The best digital readers, the Kindle family, will be married to the singular pleasures of browsing a curated bookshop. With the combination of our talents we can offer the exceptional customer proposition to which we both aspire."
Amazon is allegedly working on a
next generation edition of its full colour Kindle Fire tablet
for release in the US before Christmas. The first generation model is yet to be released in the UK and other overseas territories.
The internet retailer has also been
tipped to release a new model of its Kindle e-reader with front lighting
in the UK this summer.
Watch Waterstones' James Daunt discuss the Amazon deal below: