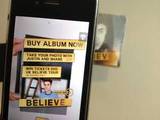 Justin Bieber
has teamed up with Blippar to bring his new album
Believe
to life with an augmented reality promotion that allows fans to be pictured alongside the star.
For the release of
Believe
this week worldwide, Bieber's record label
Mercury Music
hired Blippar to create an AR experience that could be triggered by the album artwork.
In what is being described as a "world-first for a global artist of this magnitude", Bieber fans can point their iPhone and Android smartphones at the
Believe
album cover to unlock additional content.
Users can access video and track samples, along with the opportunity to enter a competition to win tickets to a Bieber concert.
They can also magically appear alongside the star via a photo game, involving them taking a picture of themselves which is then superimposed next to Bieber.
The images can be shared on Facebook and Twitter, plus new photos of Bieber will added to the service each week to keep the experience fresh.
Alongside the album cover, the AR experience also works with adverts or poster for
Believe
, unlocking links to purchase the record from iTunes.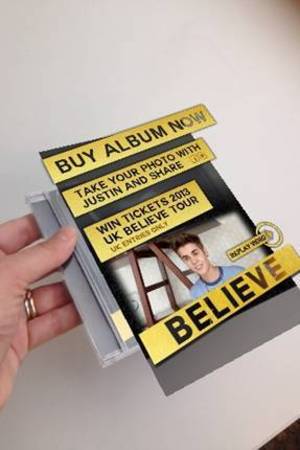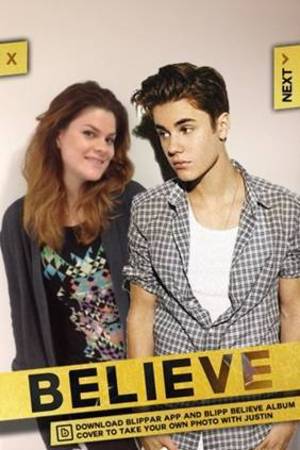 "For the first time ever this AR technology offers a dynamic experience, giving fans an opportunity to blipp each week to see new photos of Justin for them to have their picture taken with, keeping the experience fresh and appealing. They can then post directly to Facebook and Twitter," said the press release.
"Whether you're waiting at the bus stop, reading a magazine or in the shops, you can 'blipp' Bieber to get involved and experience one of the biggest albums of the year."
Bieber is one of the new generation of digital media savvy popstars, utilising social media services to build connections with fans.
He has more than 44m Facebook fans and 22m followers on Twitter, while his videos have racked up 2.7 billion YouTube views, making him the most popular YouTube artist of all time.
The singer also recently won 'Social Artist of the Year' at the 2012 Billboard Music Awards.
Anyone wanting to access the AR experience will first need to download the Blippar app for free from the Apple App Store or Google Play market.
Watch a video demonstration below of the app in action: