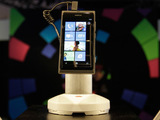 Nokia
has announced new apps coming to its existing Lumia smartphone range, including games from Zynga, as a way to placate users upset over news they won't be getting the full Windows Phone 8 upgrade.
At a press conference yesterday, Microsoft
unveiled the next update to its Windows Phone mobile operating system
, bringing a range of new features.
However, the US firm said that current handsets, such as Nokia's Lumia 800, will not upgrade from version 7.5 to Windows Phone 8, but instead get an interim step called Windows Phone 7.8.
The software update will feature the same new-look, Metro-based Start Screen unveiled for Windows Phone 8, but not all the features of the next generation OS.
As a way to placate annoyed owners of its existing Windows Phone smartphones, Nokia has announced the launch of new apps for the handsets, along with a partnership with games giant Zynga.
In a post on the
Nokia Conversations blog
, the Finnish firm said that the new apps will start rolling out in a phased approach this week.
They include Camera Extras, bringing a range of enhancements to the camera in Lumia smartphones, including functions for Panorama shots, a self-timer and better shutter speeds for action shots.
The most interesting feature, though, is the Smart Group Shot, which will take images of multiple people and pick the best faces from a burst of shots.
Others apps include Contact Share as an easy way to share contacts via SMS or email, while Counters allows Nokia users to monitor their calls or data usage and even set up limits to ensure they do not get heavy bills.
Play To offers a way for Nokia smartphone users to share their pictures, videos and music to other DLNA-enabled devices on their network, such as TVs or Blu-ray players.
Camera Extras, Contact Share and Counters will be available in the Windows Phone Marketplace in the US and China on June 22, expanding to all other countries in July. Play To will be available everywhere from June 22.
Alongside the new apps, Nokia has also announced a partnership with Zynga to bring a range of the firm's hit games to Lumia phones in autumn 2012.
Words With Friends
and
Draw Something
, acquired by Zynga after it bought OMGPOP earlier in the year, will launch in the Nokia Collection for Nokia customers for an exclusive two-month period, before becoming available to all Windows Phone customers via Marketplace.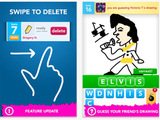 Draw Something
, working similarly to the
Pictionary
board game, has attracted more than 50 million downloads since it was released earlier in the year on iPhone, making it the most successful mobile game in history.
Words With Friends
involves players creating the highest scoring words while playing against friends and random opponents. It is part of Zynga's
With Friends
franchise.
"We're delighted to bring these two key games to Nokia Lumia and Windows Phone consumers," said Bryan Biniak, the vice president of Global Partnering & Application Development at Nokia.
"The Windows Phone Metro UI will deliver an outstanding user experience to consumers, adding more great gaming titles to our rapidly growing portfolio from leading publishers."
Zynga chief mobile officer David Ko added: "Zynga focuses on bringing fun, social, and high-quality mobile social games across platforms and devices so players can enrich their play anywhere and anytime.
"We constantly strive to listen to our players who help us focus on the platforms where they want to play. By partnering with top global brands such as Nokia and Windows Phone, we are able to reach more players with our franchise games."
There has been no word as yet when Windows Phone 7.8 will roll out, but Microsoft is thought to be in talks with existing operators and handset makers, including Nokia, about testing the upgrade.
Separately, Nokia has today announced plans to open the main stage at Tramlines, the free-for-all music festival in Sheffield.
The Nokia 'Lumia Live' showcase will bring Sheffield artist Reverend and the Makers back to their hometown after a two-year hiatus, followed by DJ collective True Tiger, who will provide the soundtrack to a Nokia light show.