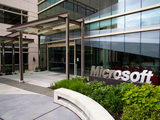 Microsoft
is reportedly planning to open retail stores in the UK.
The Verge
cites inside sources claiming that the computing giant is ready to do battle with Apple on the British high street.
The report says that Microsoft will open its first UK brick and mortar store in London in March next year, with other branches to follow shortly after.
Microsoft already operates 19 stores selling selling software, computers, phones and accessories, all of which are based in the US. The company plans to open 75 new branches over the next two years.
Apple has a significant lead on its rival in the sector, running 363 stores worldwide with global sales of more than $16 billion (£10bn) in merchandise.
Microsoft previously laid out plans to take on the iPad maker in the tablet hardware sector with the release of its
Surface
slate.