The BBC Sport app for connected TVs has launched today on
Samsung
's Smart TV store, offering coverage of sporting events such as the British Grand Prix and Wimbledon.
The app, which
debuted on Virgin Media's TiVo platform in April
and later launched on
Sony TVs
, is intended to 'seamlessly integrate' linear TV with online and on-demand content on the living room screen.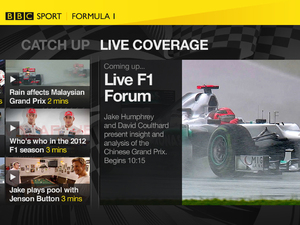 Owners of Samsung Smart TVs can now download the BBC Sport app to access all action from the BBC's interactive Grand Prix coverage in a single hub.
This includes live streams of races that the BBC has the rights to show, along with on-demand video and additional content.
It launches just in time for Samsung customers to catch coverage of the British Grand Prix next weekend, including practice and qualifying sessions.
During the race, fans can access alternative options such as on-board cameras and the driver tracker, showing where each car is on the circuit in real time.
The BBC Sport app on connected TV is also currently offering interactive coverage of Euro 2012 and Wimbledon.
Throughout the London Olympics, the app will deliver 2,500 hours of content and up to 24 simultaneous events including audio options, and medal tables.
"We're delighted to be providing our customers with the best range of sporting content via our Smart TV range,'' said Robert King, vice president of consumer electronics for Samsung UK and Ireland.
"Whether you're a tennis enthusiast or keen to see who steps up on the podium in Formula 1, the BBC Sport App will keep Smart TV viewers up to date with the latest action around the world."
Also this week, the BBC
launched its Sport application on social network Facebook
.