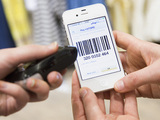 Almost two thirds of UK consumers do not intend to use emerging 'contactless' payments services on their mobile devices over security concerns, according to new research.
In its latest 'Mobile Wallet' tracking study, YouGov revealed that knowledge of 'contactless payment services' in mobile devices continues to increase, with 36% of the UK population now aware of the technology.
However, only 12% of the people surveyed said that they intended to adopt mobile payments over the next 12 months, with security and fraud concerns the primary reason why.
A range of services have recently started using mobile Near Field Communication (NFC), which enables the contactless transfer of data from a mobile device to dedicated tags or barcodes.
Various companies have also launched dedicated payment services, such as
Barclays's PayTag sticker system
, Orange Quick Tap,
O2 Wallet
and
PayPal's payments app
(also usable with non-NFC devices).
Despite consumers expressing that the "speed" and "convenience" of mobile payments are two positive aspects, 68% of people said that they were concerned about "security and fraud".
Some 64% said that they were happy with how they currently pay for goods, while 52% were worried about malware that could use the payment services to steal details from their phone. A further 50% were worried about privacy.
> Making calls only fifth-most frequent use of smartphones, says report
In terms of reasons to adopt NFC or mobile payments, the consumers indicated that incentive or loyalty schemes offered by providers could persuade them to get on board.
John Gilbert, the consulting director for YouGov's Technology and Telecoms sector, said: "The market is saying, 'Speed and convenience is all well and good, but it has to be secure. Besides, what's in it for me?'
"Furthermore, there appears to be some confusion as to which 'pillar' of the industry will take charge - handset manufacturers? Banks? Mobile operators? Retailers?
"Until issues of security and standardisation of practices and technology are resolved, future adoption will continue to stall."
Gilbert noted that the Olympic Games in London this summer could boost "awareness and demand" for contactless payments. YouGov intends to measure this in the next few months.
For its mobile payments research, YouGov surveyed 2,000 national respondents in May, supplanted by a sample of 700 contactless card users, 300 NFC handset owners and 400 banking app users.
Most worrying for manufacturers, the results indicated that just 16% of owners of NFC handsets were actually aware of the capability in their device to make contactless payments.