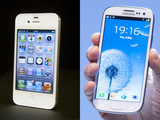 Apple
's iPhone 4S remains the UK's most popular handset but sales have seen a decline of late, according to a report.
New figures suggest that the iOS handset accounted for one fifth of all mobile phone sales in June, down from a quarter in March,
The Financial Times
reports.
The data from GfK suggests that sections of Apple's loyal fanbase are considering rival smartphones, such as the recently released
Samsung Galaxy S3
.
The Android-powered Galaxy S3 claimed 18% of the market during June, and is expected to make significant gains internationally when it launches in the US in the coming days.
Samsung's Galaxy S2 saw its grip on the market decline following the release of its successor, sliding from a 9% share to a 6% share. However, combined sales from Samsung's phone range eclipse Apple, accounting for 30% of the market.
The Android operating system is the most popular in the mobile sector
, coming pre-installed on around half of all new devices sold.