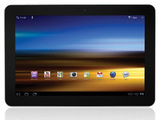 Apple
has been ordered by a UK judge to publish a statement confirming that the Samsung Galaxy Tab does not infringe on its iPad devices.
The notice must remain on the company's website for six months and will be placed in various print publications,
Bloomberg
reports.
Apple failed in its bid to enforce a sales injunction against the Samsung tablet
when a UK judge ruled that consumers are unlikely to confuse the device with an iPad, noting distinct differences in their designs.
Judge Colin Birss's declaration stated that Apple must attempt to undo the "damaging impression" its legal bid may have left on the rival slate.
Samsung said in a statement: "Should Apple continue to make excessive legal claims based on such generic designs, innovation in the industry could be harmed and consumer choice unduly limited."
Apple successfully brought about a sales injunction on the Galaxy Tab in the US, where a court ruled that the product does indeed infringe on the iPad maker's patents.
Apple is yet to comment on the UK ruling.