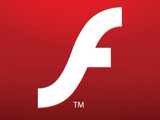 Adobe
's Flash Player has returned to Google Play in the UK on a temporary basis.
The software company overturned its decision to
pull the application from the Android store
after succumbing to pressure from "strategic partners".
A spokesperson for Adobe said: "Flash Player continues to be available on Google Play for users in the UK for a short while due to requests from strategic partners."
The application's listing on Google Play comes with a disclaimer stating that the software will no longer be updated. It is also incompatible with the latest version of Google's operating system Android 4.1 Jelly Bean.
BBC News
confirms that the BBC was one of the so-called strategic partners that pressured Adobe to make Flash available for mobile devices once again as the software powers its iPlayer service and the embedded videos on its website.
The broadcaster is working with Adobe on an alternate video player as the firm gradually phases out the technology.