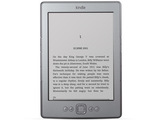 Amazon
are to release a new version of the basic Kindle, at the significantly reduced price of £69.
The web store also announced in the US today new versions of tablet Kindle Fire,
including the Kindle Fire HD
, as well as
the Kindle Paperwhite
, a new reader which is yet to confirm a UK release date.
The new model of the basic Kindle e-reader is to come with a variety of new features, including 15% faster page turns, and darker, hand-tuned fonts for easier reading.
It will also be smaller and lighter than previous models, weighing just under 170 grams.
Amazon executives hope the significant price cut for the new model will entice millions of new readers into picking up the e-reader.
The bookseller had reported last month that
e-book sales had overtaken physical book sales for the first time
, with 114 e-books sold for every 100 traditional books.