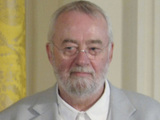 Bill Moggridge
, the man who created the traditional clamshell design for laptops, has died at the age of 69.
The influential industrial designer, survived by his wife and two sons, passed away after a battle with cancer.
Moggridge came up with a design for a computer called the Grid Compass in 1979, which was initially used by the US military and later installed on board the space shuttle Discovery.
The Grid Compass, which went on sale for £5,000 in 1982, sported a screen that folded down over its keyboard, a form factor that would soon become industry standard.
Moggridge previously founded a London-based design firm, which went on to become global consultancy Ideo. He later completed stints as visiting professor in interaction design at the Royal College of Art in London, and consulting associate professor in design at Stanford University, California.
At the time of his passing, he held the post of director at the Smithsonian Cooper-Hewitt National Design Museum in New York.
The Grid Compass earned Moggridge the prestigious Prince Phillip Designers Prize in 2010.