Google
has removed the
Nexus Q media streaming device
from its website, sparking rumours it has been placed on hiatus.
The hardware's consumer release was delayed back in August
following a lukewarm reception in the press, but it remains listed on the Google Play store despite being unavailable to order.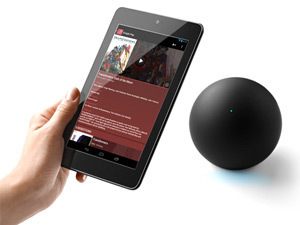 "The industrial design and hardware were met with great enthusiasm. We also heard initial feedback from users that they want Nexus Q to do even more than it does today," said Google in a statement at the time.
"In response, we have decided to postpone the consumer launch of Nexus Q while we work on making it even better."
The Nexus Q, unveiled alongside the Nexus 7 in June, allows users to stream media from cloud storage. Early reviews criticised its lack of features and comparatively high price tag of $299 (£185).
Google pledged to offer the product to customers who had pre-ordered it for free at the time of the initial delay, but it is yet to be confirmed when it will be taken off hiatus.