This show is a real challenge for the
"When Louis met...???
strand. The initial show with Jimmy Saville had novelty value, the second, with Paul and Debbie Daniels was based around the establishment of Debbie's ballet company and the third was the coup of the year as Neil and Christine Hamilton faced shocking allegations.
The problem with this outing, featuring Ann Widdecombe is that it is set out against the backdrop of a hardly enthralling Tory leadership campaign.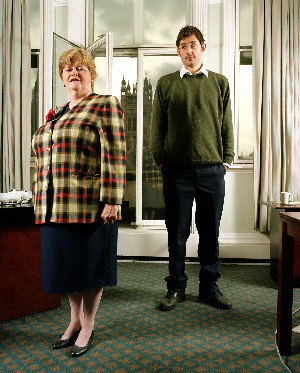 It seems that our Louis, in an attempt to liven proceedings, attempts to irritate Miss Widdecombe at every turn, pressing her on personal subjects that she makes it abundantly clear she hadn't agreed to discuss on camera.
We see Widdecombe backing first Michael Ancram and then Ken Clarke. We meet her "Rock Chick??? personal assistant and her surprisingly jovial mother; we get to hear the poem she has written about her cats; other politicians are seen beating a hasty retreat at the first sight of Theroux, whose relationship with his subject grows frostier as the show goes on.
Theroux joins Widdecombe and her mother on a Norwegian cruise and creates further friction by interviewing the mother despite apparently having agreed not to.
I don't suppose you can blame the makers for manufacturing this tension, as without it a few days in the life of a single back bench M.P. who lives with two cats and an aging relative wouldn't have been that interesting. Miss Widdecombe certainly emerges from the episode with considerably more credit than does Mr. Theroux.
Engaging television for all the wrong reasons.
Rating:
8 out of 10
When Louis met Ann Widdecombe airs on BBC TWO on Tuesday 5th March at 9.00pm