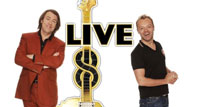 The big event
Live 8
was always going to be a massive television event though I must admit that it didn't keep me glued to the screen the way Live Aid did twenty years ago, not in the afternoon anyway. There were too many distractions such as the best women's final at Wimbledon in decades and a cracking England Australia cricket match that went to the final ball.
It was well into the evening before I gave the event my undivided attention.
As it was, for me the Scissor Sisters and Madonna were the stand out acts, while Robbie Williams seemed to treat the whole thing as a big ego trip while chez Hogan, we watched Mariah Carey through our fingers, wondering whether she was going to crack up. She gave what we considered an "interesting performance???.
All the comedians seemed to fall flat, with Peter Kay strangely off form. His attempt to lead 150,000 people in a chorus of Amarillo was one of the more embarrassing moments.
The show massively overran of course so it could well have been past the bedtime of many of the fans of Pink Floyd by the time they tottered on to the stage. Their laid back style was probably not the best way to end the evening, though The Who showed plenty of energy (and a few bulging veins) as they belted out a couple of classics.
The BBC kept cutting away from the films focusing on what the event was about, which was rather annoying.
The whole problem Live 8 sets out to address is very complicated and more time should have been given to explaining these complexities and perhaps giving the counter argument to simply writing off third world debt. To raise awareness is fine, to try to something about the problem is fine, but not to explain the whole picture is not fine. Whatever the G8 leaders commit to, there are no easy answers here and the worry is that some people will their consciences salved but having taken part in the event then won't worry about it again till the next celebrity charity shindig.
The BBC certainly has a part to play in both keeping Africa in the news agenda and explaining the complex nature of the issues.
Too good to hurry
It has to be said that my girlfriend is no great fan of sport. She greeted England's Rugby World Cup win with a shrug of the shoulders; if we should happen to inadvertently wander into a pub showing live football, she gives me daggers; the very mention of Formula 1 and she has a face like she's sucked a lemon.
So something strange happened during the middle Saturday of Wimbledon. We were holidaying in Weymouth and had walked into Yates's where on the screen, Britain's plucky Andy Murray was engaged in five set battle with David Nalbandian. Now I wouldn't say she was transfixed, not by any means, but she was interested enough that we got to stay in the pub till the end of the match.
There's just something about Wimbledon that transcends sport. Part of the British way of life I suppose. In any event, watching Murray was a million miles from watching Henman. The lad has such confidence that we believe he's a winner. There's some great telly to come from this lad.
Matinee Idol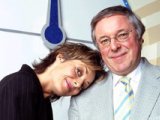 Much missed
I remember when Countdown started, the first show ever on Channel 4. The presenter, so obviously plucked from regional news, was stilted and awkward but the game was compelling enough and despite a shaky ratings start was soon a regular fixture on our screens.
The presenter was to quickly grow into the role and become one of the most loved figures on British television; we loved his appalling puns, outlandish jackets and garish ties. Most of all we loved him, his jocularity and familiarity with us that made his show such a comfortable watch.
Richard Whiteley was part of the landscape for decades and is totally irreplaceable.
He is sadly missed.
Bragging rights
ITV is entitled to celebrate 50 years on air but do we really need such a sycophantic appraisal?
Hosted by Melvyn Bragg,
The People's Channel
seems to be more of an exercise in backslapping then a critical appraisal of half a century of telly.
Seeing all those old clips merely reminded me of how good ITV
used
to be when at its best. We can only hope that the channel's best days aren't behind it.
It was a great reminder though that great things could be achieved when impresarios like Lew Grade are at the wheel.
Accountants do not great television make.