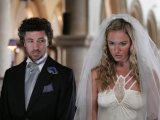 Pass the tissues
I'll admit it.
I thought
Walk Away and I Stumble
was going to be a right load of Mills and Boon. Cheap romantic tosh was what I was expecting. I should have known better with a class act like Mark Strong in the cast.
Strong and Julie Graham were firing on all cylinders as the Spaders when Tamsin Outhwaite's travel agent came into their lives, shattered their thirteen-year marriage and then became terminally ill and used the family she'd nearly destroyed as her support network as she died.
If there was a problem with the piece for me, it was that I didn't really care about Outhwaite's character nor did I find the affair particularly believable. Where it scored was the effect on the Spader family and the locations looked marvellous too.
The title was a bit cheesy, ripped off from that Macy Gray track. I'm glad I wasn't put off by it. Writer Matthew Graham must be fond of plundering lyrics. His upcoming project, Life On Mars looks very promising.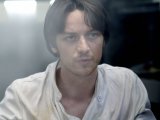 Pigs will fly
With ITV boosting the sales of Kleenex,
Macbeth
was left struggling for an audience on BBC One. This is a pity because it was a very clever adaptation. Therein lies the problem though. While I spent an hour and half marvelling at the ingenuity of transferring the action to a high-class restaurant, I didn't actually find the end result that gratifying.
None of the murders was particularly moving and the final demise of the Macbeths was of course expected and failed to shock.
I loved the three bin men though and the reference to Gordon Ramsay as The Scottish Chef.
Déjà vu in Little Britain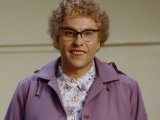 Fluid humour
It's always a good idea to catch
Little Britain
early in the series as you know the same gags will be used throughout the rest of the run. The funniest part of Thursday evening came in Tom Baker continuity links rather than the show proper.
Excuse me of heresy if you like (some Sharon Rickman fans have after last week's column) but Lou and Andy really have been done to death now and there's been no attempt to take them in a different direction.
On the plus side, Bubbles has a new nemesis which raised a smile and Vicky Pollard's dance off with a rival gang was predictable but still amusing. Best moment was Anne's appearance on Stars on Their Eyes. The punchline was of course obvious but the anticipation of it was glorious.
The puzzling thing is that the show that made its name by being cutting edge and shocking has now become predictable and to a certain extent safe. After last year's vomiting lady this season's incontinent character doesn't have the power to shock anymore. We now expect it, which leaves just that bit desensitised and all in the cause of cheap laugh.
Take That…and party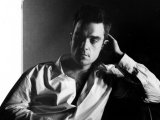 Missing link
Robbie Williams cut rather a sad figure on
Take That…For The Record
. However his failure to meet up with his former bandmates at the end of a surprisingly illuminating documentary probably added rather than detracted from the show.
While Robbie has gone on to superstardom, the others have never managed to achieve the highs of their glory years, though it's hard to feel sorry for them. The phrase comfortably well off doesn't seem to cover it. None of them looked as though they were on their uppers.
Tales of sex and drugs abounded of course but the fact that Gary and Robbie remained unreconciled at the end lead me to think that there could yet be another chapter in the Take That tale.
The revelation that Howard considered chucking himself in the river when the band broke up was revealing and the only member of the band I felt I'd learned nothing new about by the finish was Jason, although plenty of innuendo was fired about.
Since Spinal Tap, most rockumentaries have been unintentionally funny so it was great that this one avoid the pitfalls and shed a bit of light on those heady days.
As for all those fans hanging around outside when the band made its GMTV appearance, surely ladies, nearly a decade after the band split, it's time to grow up.
Dangerously addictive
Whatever you do, stay away from Noel Edmonds and his
Deal or No Deal
game show. It may be total tosh but it's highly addictive tosh. I've found myself agonising over whether the contestant will take the banker's offer and have frightened the cat shouting "No Deal??? at the screen.
Don't watch it. You'll be hooked and life really is too short. Rumour has it that the evil banker is in fact good cop/bad cop Alan McKenna who used to be in Corrie. He was dead nasty to lovely Fiona and he's dead mean to the contestants. Pantomime booing is definitely called for.
Doesn't Noel look tiny now he's abandoned his once trademark ludicrous sweaters. He should bring them back. It's going to be a cold winter and someone of his advancing years really should wrap up warm.
Must see? Not me
ITV's
Must See TV
continued with a look at Kenny Everett, though the show touched only briefly on his radio days and ignored all of BBC TV career completely.
While we got fairly comprehensive coverage of his successful Thames years, I was left with a feeling that the story had only been partly told and a decent narration would have been more informative then the dull links offered by a strangely cast Julian Clary.
Hot Gossip seem rather tame these days. Funny how tastes change.
EastEnd Exodus
Sam Mitchell left Walford having fronted out Johnny Allen. Johnny was doing his best to be menacing but surely a mention that he'd bumped off her husband would have been enough to put the frighteners on.
Sam used to be a feisty character and it's a shame that she'd been allowed to become such a wuss in recent years. Kim Medcalf deserved better and I'm sure she'll go on to brighter things.
Wellard was the star of the week, sinking his teeth into the troubled and vinegarish Ian Beale. Let's just hope the hound's jabs are up to date. Wellard was off the square by the end of the week, another sad departure with more to come.
I hope the replacement characters are a bit more interesting than Naomi. The test card has more charisma.