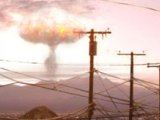 Genre:
Drama
Cast:
Skeet Ulrich (
Scream
), Gerald McRaney (
Ike: Countdown to D-Day
), Ashley Scott (
Dark Angel
), Pamela Reed (
Proof of Life
), Kenneth Mitchell (
The Recruit
), Lennie James (
Sahara
), Sprague Grayden (
Six Feet Under
), Michael Gaston (
Prison Break
), Erik Knudsen (
Saw II
)
Airs:
Wednesdays at 8pm on CBS
Timeslot competition:
Dancing With The Stars
(ABC),
30 Rock
/
20 Good Years
(CBS),
Bones
(FOX),
America's Next Top Model
(The CW)
UK pickup?
Hallmark first, with ITV following
Plot in a nutshell:
A small Kansas town is thrown into disarray after a nuclear explosion.
What's it all about?
After an absence of several years, Jake (Ulrich) returns to the small town of Jericho, Kansas for a brief visit to see his family and one-time friends. When a mushroom cloud is visible on the horizon, and all means of power and communication are cut off, Jericho is thrown into a state of panic.
Does it work?
It depends what you're after. If you're looking for the next
Lost
, you'll be disappointed. This show puts the small town inter-personal politics ahead of the "mythology" - thin on the ground as that may be - meaning you could well be left frustrated if slow-paced, highly-emotive dramas aren't your bag. And like all dramas of this sort, the quality is largely dependent on the casting: although Pamela Reed is a reassuring presence as the mother of Jake and Ashley Scott puts in a good turn as his ex, Ulrich is an uncomfortable - and largely unbelievable - lead throughout. One area where the show deserves nothing but praise lies with its soundtrack - The Killers' anthemic 'All These Things That I've Done' opens proceedings while Snow Patrol's 'Run' accompanies a poignant sweeping shot ending.
You'll like this if you liked...
Everwood
Chances of success:
CBS audiences love plodding - sometimes borderline monotonous - dramas so this could well establish itself as a wholesome hit.