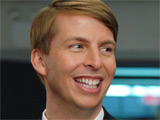 It would be unforgivable to let this man slip under your radar;
Jack McBrayer
is officially one of America's hidden gems. He's currently preparing for a fourth season of Tina Fey's comedy series
30 Rock
and has recently starred alongside our very own Russell Brand in the big screen comedy
Forgetting Sarah Marshall
. Oh, and he's also popped up in Mariah Carey's 'Touch My Body' video. With no shortage of questions, we called Mr. McBrayer for a much-needed natter.
Is your 30 Rock character, Kenneth, based on anyone you know?
"I would say that Tina takes a few elements of my life that she knows and incorporates them into Kenneth. For example when I was in New York and I had very little money, I would sustain myself by just eating chick peas straight out of the can, and sometimes you'll see Kenneth eating beans out of the can like an old hobo! But she does that with all the characters. Tracy sometimes has storylines that come straight from the horse's mouth. I think Kenneth is a little bit of me but also Tina worked on
SNL
and worked with so many pages, so I think he's an amalgam of all the people she's worked with."
How do the actual NBC pages react to Kenneth?
"They seem to be taking it OK. I was worried very early on that they were gonna be mad that I was mocking them and revolt and charge the studios! It would not have been nice! But they've been fantastic and I've actually worked with many pages at NBC and
Late Night
with Conan O'Brien so I got to see how they do it and how they have to smile all the time."
Why do you think the show is so successful?
"Well, I think Tina has done such a good job of making it relatable and accessible to people who haven't worked on a TV show. It's about people - a work environment. It's for anyone who has a job and has dealt with a crazy co-worker or people who have delusions of grandeur. I think everyone can grab on to some part of it. Plus, the writers and Tina are so fanatatsic at making the comedy work."
You've had a lot of guest stars on the show. Who else is lined up?
"For this season we had Jennifer Aniston, Oprah, Steve Martin, Elaine Stritch comes back as Alec's mother. For our season three finale, we pull out all the stops. I'm not allowed to say anything but I think you'll be impressed!"
There have been a few rumours that Alec Baldwin wants to leave the show...
"As far as I know, he's staying! I hope somebody tells me before he goes - I got some house payments to make! The show would definitely change if he wans't around - I can't even imagine it without him. He's one of the main reasons we made it on the air in the first place. I hope he sticks around for a while, but I'm prepared for this to go away at any point because it so easily could. After the first season we were so prepared for cancellation because we just didn't know what was gonna happen."
You recently starred in Forgetting Sarah Marshall. What was that like?
"I was pretty much playing Kenneth on a honeymoon! It was such a fun shoot - we were in Hawaii for a month and it was gorgeous! And it was the first time I'd met or heard of Russell Brand. It was so fun! I didn't even realise he had this troublemaker or bad boy image until much later. He was such a sweetheart on set - he was on his best behaviour!"
You've appeared in a video with Mariah Carey. Do you have plans to do more roles outside of 30 Rock?
"Not right this second. We just wrapped our third season so I'm on vacation until we start again in August. I'll be honest, I'm fine to sit around in the sunshine. It's nice to have a break when you know you have a job - I'd sweat a little bit more if I had nothing coming up. But you know what - we deserve a break. We've worked hard!"
Season 2 of 30 Rock is released on DVD on May 25.