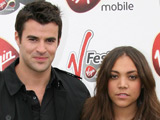 Thousands of music fans will be praying for the sunshine next weekend as they make their annual trek to Weston-super-Mare for the irrepressibly fun T4 On The Beach. Marking its seventh outing, this year's festival already boasts a suitably stellar lineup, including Dizzee Rascal, Gossip and The Saturdays, with more acts still to be announced. We caught up with presenters
Steve Jones
and Miquita Oliver to chat about pre-show nerves, pesky publicists and slow-dancing with Will Smith.
T4 On The Beach is into its seventh year now. Why do you think it's managed to stay so popular?Steve:
"In all fairness, it's become more popular! When we started we had 15,000 people come down and now we have about 25,000."
Miquita:
"The first year wasn't very strong, so it could only have grown and gotten better and bigger! The name change was huge (previously it was known as Pop Beach) and then, of course, we moved location. We started to have a lot more fun with it and book much better artists which made a huge difference."
Steve:
: "It's just a natural progression of an event. The bigger it gets, the bigger the names that want to come along, which is why we have Calvin Harris this year and Dizzee."
So you're looking forward to this year's lineup then?Miquita:
"I'm so happy that Dizzee is coming back because when he played before I was like, 'God, check us out! He is rocking the stage!' He's great when he does it."
Steve:
"Ironically, when we're fronting the event we don't really see much of the music, which is a shame."
Miquita:
"You kind of hear it, but we're in this pod which is now soundproof! It's good though, because you can see the crowd going mad. When Basshunter played last year it was unbelievable. I'm not a huge fan of Basshunter, but it was a great artist for the event."
Steve:
"You're not a fan of Basshunter at all! Let's be clear on that!"
Miquita:
"No I'm not! But anyway, there were 25,000 people jumping up and down and it was great and I felt very proud."
Steve:
"They were clueless! They loved it and that's part of the fun for us, to see thousands of people having a good time, smiles on their faces for weeks after."
Even though you've been doing this for seven years, do you still get nervous?Steve:
"Now we've done it so many times you tend not to be. When I first started, Vernon used to sleep in his changing room and then five minutes later be on stage and I'd be like, 'Jesus! This guy is a robot. That's impossible!' But now I'm a lot more relaxed. I can sit down, chill out, read a book and then ten minutes later be on stage."
Miquita:
"I think if you are on your own it's different, but if me and Steve are doing it together, there's a moment before you step out on stage when you're looking in your best mate's eyes and saying, 'Okay, let's go do this then!' I just look forward to it, although I used to get really sick."
Obviously, you're rather famous for your off-beat style. Do you ever give guests any warning of what's going to come? Especially the Americans?!Miquita:
"No! Which is why they are sometimes like, 'Ummmm?' Quite a lot of the American rappers will be a bit confused by the humour and a bit lost. But I think you have to give people the benefit of the doubt. If anything, they're a bit like, 'Oh! Something different! This will be quite fun.' Because their day is usually quite samey, samey."
Steve:
"It's a testament to T4 because recently I've been stopped by publicists who say, 'Don't do a T4 interview! Can you just be a bit more serious because it's Reese Witherspoon, she's not at her best so can you just not do anything crazy please?' I like the fact that American publicists know T4 well enough to say, 'Can you not be weird?' That makes me very happy! And just for the record, Reese was fantastic, it was just her publicist! She was brilliant and I could ask her what I liked."
Miquita:
"Yeah, 80% of the time the people are like, 'Can you not, can you not' and when you do, the person always looks relieved to be genuinely excited by the interview. So shut up publicists! Apart from ours, who is lovely!"
Looking back on all your interviews over the years, which would you say is your most memorable?Miquita:
"I did Justin Timberlake when I was 18 and I was so nervous I couldn't breathe properly. It was the first time I'd done an interview where I realised the scariest bit is the part before. Once you're in the interview it's really fun. For me, that was a big change in my job. And also, he was really hot!"
Steve:
"Probably with Will Smith for
Hitch
. I asked him for help with my chat up lines and then we ended up slow dancing! It was just a really odd, spur-of-the-moment, off-the-cuff, fun interview."
Miquita:
"Every time we interview him we think, 'Oh God, I hope he's as good as we remembered him!' And he always is!"
Steve:
"I interviewed him on a boat recently and I was quite nervous because I didn't want him to be a dick. Right off the bat, I was sitting in a holding pen with the other interviewers and he comes in and says, 'Hey guys, thanks for coming along! I'll see you in a bit!' And we were like, 'F**king Will Smith!' Nobody ever does that! Most of them come into the room and say, 'Hi, you f**king enemy! I hope you all die before you get the chance to interview me!'"
So, even after all your experience you're still not immune to occasionally being starstruck?Miquita:
"Yes. I interviewed Michael Caine the other day for a film about him being a magician and we did it in - and by the way, this place does exist - the Ministry of Magic in Marylebone. I know, it's ludicrous! This
Harry Potter
building where magicians come to learn their trade. And he came in and was like, 'God, this is a weird place, isn't it?' And I was like, 'Yes it is, Michael Caine!' I got so starstruck!"
Steve:
"There's a certain level of actor or personality who's been everywhere, seen everything and done everything. People who have nothing left to prove and are just absolutely lovely, relaxed and chilled. It's the up and coming ones at the other end of the scale, which we won't go into, that can be the dicks!"
Miquita:
"I'm so happy we ended on the dicks..."
T4 On The Beach takes place on Sunday 19 July in Weston-Super-Mare. The event will be broadcast across Channel 4 and 4Music. For more info, go to www.channel4.com/t4onthebeach