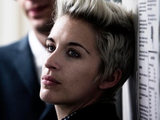 If you liked
This Is England
, then you're going to love
This Is England '86
. Director Shane Meadows and cast have reunited for a four-part sequel to the 2006 BAFTA-winning film which continues the story of Shaun, Woody, Milky and the gang. We got
Vicky McClure
(Lol) on the phone to chat about the the new series, '80s fashions and the possibility of a trip to the '90s.
How did you react when you first heard about this new series?
"I was gob-smacked. I heard about it over a year ago. Shane came around and said 'I'm thinking of doing a series'. I thought 'This is never going to happen'. I thought it was too good to be true. I didn't think it would actually happen. But it did, and it's great!"
How has your character Lol changed since the film?
"She's got a much bigger story in the series so we see a lot more of her family. She's still with Woody (Joe Gilgun). Needless to say, that relationship is not in the greatest way. She's got a few problems with the love life and family. Her story now is much more intense. Lol's a really hard character yet you get to see sides of her that are quite vulnerable."
Lol is very much the focus of the show. Did you feel any added pressure because of that?
"I embraced it. I was made up by the fact that Shane had decided to focus on her. It was a massive deal to me because I know that Shane's never focused on a female lead before, so being the first one was a massive deal and a real pleasure. There was pressure there, definitely. I couldn't do it standing on my head and there was a lot of hard work involved. But that's what actors do it for!"
How did it feel returning to the character four years after the release of the film?
"It was strange. Once the cast were all together, trying on costumes and getting our hair done, it didn't feel like any time had passed. I love the character. She's a lot of fun to play, being that hard, and her and Woody being the leaders of the gang. I was really happy to bring her back to life, knowing that she's got a much bigger story now. It's nice to be able to develop the character."
How does this new series compare to the film? Is it similar in tone or does it feel quite different?
"It's very similar in so much as there are dark elements to it, and there's a lot of comedy as well. The film had that kind of balance where you were laughing one minute and crying the next. The series has definitely got that aspect to it. The massive difference is that there's so much more of all of the characters. I think ultimately that's why Shane did it really because when he did the film, people liked the characters and wanted to know what happened to them. There were a lot of unanswered questions. Everyone has a storyline now instead of it just focusing on Shaun (Thomas Turgoose)."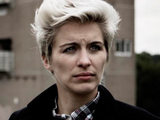 The film focused quite heavily on racism and violence. Are those themes still a part of the new series?
"Not at all. There's nothing to do with racism. It was definitely still apparent in that time, but the series is based on Shane's time in 1986. Everybody's experience will have been different. Shane has moved on from that. It's purely about the charcters. It's still got that completely '80's feel about it, but it's not based around racism."
Last time, the arrival of Combo (Stephen Graham) broke up the gang. How does his return affect them?
"There's a different reason for his return. I don't want to give away any of the story but he returns for a different reason this time. Everyone will understand the reason for him coming back. It's not really about the gang this time. But I'm going to keep my mouth shut about that!"
You've worked with Shane Meadows several times now. Has his approach changed over the years?
"No, his approach hasn't changed at all. He's a very improvisational director. When he first told me the storylines for Lol, I thought it was brilliant but I couldn't see it happening. You never know with Shane if it's going to change from one day to the next, so you have to go in with an open mind. I have worked with Shane a lot over the years but this was the closest I've ever worked with him. We had a lot of big scenes to do together and this was by far my most enjoyable experience working with him."
Is this show the end for these characters or is there a chance of a second series?
"There's definitely talk of it. I keep hearing about 'This Is England 1990' and there's talk of doing some specials. But I think it's a case of 'Wait and see'. Nothing's confirmed, I've just heard whispers."
Would you like to play Lol again?
"Oh God, yeah! I'd be well up for it! 1990, yeah! The more recent it gets, the more I can remember! I was only 3 in 1986 so my memories are quite vague!"
This Is England '86 begins tonight at 10pm on Channel 4.