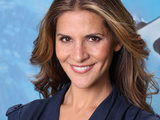 Life's not too bad when you're
Amanda Byram
these days. Hanging out in Argentina, laughing at deluded members of the public trying to bounce their way across the 'Big Red Balls' sounds like quite a bit of fun actually. While series four is being broadcast, the Irish presenter is already back in Buenos Aires filming the fifth run of the BBC's popular gameshow
Total Wipeout
. Desperate to know more, we gave the lovely lady herself a call to talk balls, weddings and poisoned chalices.
You're back in Buenos Aires now filming the fifth series?
"This is five - I can't believe it Ryan, seriously. It's mad."
It's been a real hit hasn't it?
"It really is. I think after the third series we all seemed to notice a vast difference between series one and people thinking it was just a fun and silly show and series two with people taking a bit more notice. I think the weirdest thing about it is the vast difference in ages of people and types of people that watch it, because of the type of people that take part. That's the difference with this and I think that's why it's been such a cult hit. Our demographic is so wide. We're not specific to anyone in particular and so for us it's really mind-boggling. So many people really, really enjoy it - it's mainly kids but people stop me in the street and say, 'How can I get on your show?' It's really heartwarming to know that people are actually enjoying family entertainment on a Saturday night as opposed to other stuff that has been dominating."
Do people still underestimate how hard the course is?
"Oh my God, they always have and they always will! Until you get to that set you will always think it looks so much easier. I swear to God if I had a penny for every single person that gets to the end and goes, 'I didn't know what I let myself in for. It's so much harder than I thought it was'. I'm like, 'What did I tell you 10 mins ago when you were bouncing up and down going, 'This looks easy!' I definitely think people are genuinely now aware that it must be quite difficult, but have a laugh anyway. We've just had a guy who was 6'4, he's a bodybuilder/personal trainer - built like a ship. He couldn't finish. He was in bits. He went at it so hard and I think that was the problem. Sometimes your adrenaline just builds up, I think he was actually too strong. You really can't win! It's bloody hard and one of the reasons I still haven't done it. My pride doesn't want to take the beating - I can't because I take the p*ss out of people for a living Ryan!"
Do you ever get to spend much time with Richard Hammond?
"No. He's in the comfort of a studio in the UK. He came out to Argentina once during series one - for the celebrity show I think. He was out for three or four days and realised, 'Oh actually this isn't a big fancy set with nice catering - it's a muddy field!' Richard's lovely and is very sweet. He's genuinely actually too busy to come out here. That's how ridiculous his schedule is. He's consistently doing
Top Gear
and all the other stuff he does, so he genuinely doesn't have time to come out. But there was definitely an element of, 'Holy s**t, you guys spend seven weeks out here' (laughs). I can tell you now it's not glamorous. It's neither big nor clever. My dressing room is a tent. A nice tent - a walk-in tent with nice wooden floorboards and stuff! It's a big field. That's one of the reasons we film it in Argentina, because we wouldn't get planning permission for it in the UK. It's massive and vast. There are two different sets on the field, so at any one time while we're filming, there's another country filming - I think Holland are filming at the moment. Then it's Turkey next week. It's the United Nations of TV programmes!
That must get a bit confusing!
"Seriously, it's really funny actually - you go into the catering room and you always know the host because they are obviously wearing makeup in 40 degree heat - who the hell would do that? - and quite dressed up. So you'll go over the the salad bar and it will be like, 'Hi, I'm UK and you are?', 'Hi, I'm Australia', 'Oh nice to meet you'. And that's it, you're known as, 'That's UK', or 'That's Spain'."
The American version has their own set though, don't they?
"They have one in LA - in Burbank! I wish to God we were there. I've been trying and begging them to let us go to LA to film ours but unfortunately it would cost a little bit more than it does to do it in Argentina."
How about having a world championship between the various countries?
"We have actually had lots of ideas banded around. There's lots of fun things we can do and one of them was a world one. I know a lot of people in the UK watch the American one - I think it airs on a cable channel - and someone else suggested that all the presenters should go on. I would do it if it was for charity. I can't see the fun in it! I think I've seen more falls and twists and turns than anybody else. As of this series the only other person who has seen every single qualifier was me and one of the other producers who isn't out for the first couple of weeks, so now it's me. I'm the only person that has watched them all and that's why I haven't done it. One of the girls that did the qualifier yesterday came out with a black eye - hit by the 'Sucker Punch'!"
I personally think it looks like the worst part of the course...
"Oh my God, absolutely! Listen, I'm a tough chick but I'm a bit of a wussy when it comes to stuff like that. I don't want a broken nose or black eye thank you very much."
So are there going to be new parts of the course in series five?
"Oh yes there is actually, which is really exciting. For the qualifier, apart from the 'Big Red Balls' and the 'Sucker Punch', everything else is new stuff which we haven't seen before. We don't even know what we're calling them to be honest with you, but I call them the 'Big Red Hoop-Go-Round' - on this a big massive guy a couple of shows ago got his leg stuck in one and it wouldn't come out. This big guy being flapped around like a ragdoll - hilarious! Then we've got two brand new standalone games. Instead of 'Crash Mountain' or 'The Sweeper' we now have 'Double Cross', which is brilliant. Basically they all stand on one podium and four arms come around - three of which are green, the other red. They have to run across one of the green ones to get to the middle, then wait for the red one to come around so that they can run to the other side. So it's basically like a big game of chess and timing. They all get caught up in the middle and it's hilarious. The other one instead of 'Dizzie Dummies' is a game called 'Terror Go Round'. It's this big kind of massive spinning wheel - like a cone shape - and there are to Argentinian guys up in the roof bit throwing down wet towels, rubber dingies, big inflatable dolls and teddy bears and stuff. They have to run around missing them and then the sweeper arm comes around. So as all this stuff is being thrown at them, they have to jump and it's hilarious. It's really good, because for us after five series you start to see the same thing over and over again. It's nice for us to have fresh eyes and see it with a new comedy."
Speaking of challenges, you did do the Inca Trail trek in Peru last year...
"I did - that was incredible. Honestly it was one of the best experiences of my life. No word of a lie. It was Peru and the Inca Trail is something I had always wanted to do. Denise [Van Outen] and Fern [Cotton] rang up and asked if I'd be up for it and it was no brainer. The charity itself, Breast Cancer Care, is such a brilliant charity and it was with all those women who have been affected by breast cancer - one of whom has secondary breast cancer. From every aspect, everything fell into place. It was a really incredible and magical place, the women that we were doing it with were amazing - Denise, Fern, Gabriella [Cilmi] and Alexandra [Burke] were just such great fun and great friends. It sounds wanky but everyone really bonded. I would do it again in a heartbeat."
Perhaps you could get Denise out to Argentina?
"I think not a hope! Believe me I've tried. Fern's dad is a massive fan though and so I've come up with a potential idea. We should do it with parents and family of celebrities who would never do it in a million years. So rather than Fern Cotton, we've got Mr Cotton - Fern's dad. If we can't get the celeb, we'll get the next best thing. There was a nod at one point from an executive producer saying it was a good idea, we'll see what happens. That's the thing with this show. You can kind of play with it in so many different ways. God knows when it will end. This may be our last series, who knows? I doubt it will be because it's doing so well, but you never know. It's one of those shows where if it is waning then we'll go, 'Lets put a spin on it'. We'll chuck a bit of snow out there and call it Winter Wonderland."
I remember watching an episode of the American version which had couples doing it at the same time.
"Oh my God that's brilliant. With Endemol as our company, we are creatively allowed to look at their ideas and use them or do a spin on it. It's quite possible. It's a good idea because it then becomes a race. Funnily enough, there were talks about doing a husband and wife special for
Sport Relief
. Celebrity husband and wife couples doing it together, but I think the idea went away."
So are you happy to keep doing the show?
"I am. This particular series has come around so quickly, so I think we're all in a bit of shock that we're back out here again so soon. Which is brilliant in some ways, but in other ways it's kind of like, 'Hang on, I forgot that I live in London for a minute'. So when they space them out, that's when it becomes really fresh and varied and you get time to reflect and do stuff back at home. This is the first show that I've done since moving back from Los Angeles. When I decided to move back from LA I thought it was going to be hard to get a show back in the UK as I hadn't been on screen here for a while. Then you get offered a BBC Saturday night show and it's kind of unheard of. For me it's a godsend and I love the show and everyone that works on it. They're bloody brilliant. It's a dream, dream job. But hopefully we don't have to come out again in two months time - I've got a wedding to organise!"
All New Total Wipeout continues on Saturday at 7pm on BBC One.