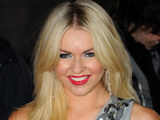 Combining the pleasures of
Come Dine With Me
and
Blind Date
, Fiver's
The Love Bus
is proving to be something of a cult hit. Throw in former
Dancing On Ice
star
Zoe Salmon
in a bus conductor's outfit and you've got 30 minutes of light-hearted TV fun. We caught up with Zoe last week to chat about the programme.
Can you tell us how this show works?
"Well, basically we have this bright pink bus. I take on the conductor role and we have a passenger on every episode who we take on a town or city in the UK every week. We stop at bus stops along the route and pick up different dates. It is basically like speed dating, so they get to have a chat and there is a performing area. The performing area is a bit like
Britain's Got Talent
, so they can do whatever they want. There have been cocktail makers, strippers, really good singers and anything goes really. Some of them just read Shakespeare if they are an English literature student. Honestly, I just love being part of it, because I have never laughed so much in my life. It is so funny watching their reactions. I do think people are getting to love the show. In terms of dating shows, it is so different to anything that has been done before."
You seem to have more fun than the actual contestants in the episodes that I've seen!
"Yeah, I suppose I'm not the one who has to reject these people! It's a bit like watching a rom-com unfold in front of your very eyes. Everyone knows that it is all the fun of the show though. It can't all be fun if you are dating. You've got to have a laugh."
Has there been any success with the couples on the show?
"Well, I used to watch
Blind Date
back in the day and after hundreds and hundreds of episodes, they only had one wedding as far as I know. With the
Love Bus
, we've only filmed ten episodes, and no weddings to declare. But hopefully this is the first series of many and you never know, I may get my conductor's hat on and get to a wedding! You never know!"
What did you think to the guy who stripped on the bus?
"Ha - that was so funny, I didn't know where to look! My favourite was probably the cocktail maker. The girl was so lovely and couldn't say no, so he just kept on making the drinks. By the end of the date, I swear they were so drunk. It was hilarious, because that bus does really move about. People don't realise that when they prepare for the show. All these dancers, strippers and everyone come on the show and don't realise how difficult it will be to do their task on the bus."
Some of the daters seem really fussy on the show. Do you find it odd how specific people are when it comes to dating?
"It's really weird because I was only out a few weeks ago with a group of girls and one of the girls in my gang said that she was looking for a guy. She said that she wouldn't contemplate going for someone not as tall as 6ft. I couldn't believe that! Personally I don't rule anyone out regardless of whether they are small, tall, fat, thin, brunette, blond. I just take people as they come. But on the
Love Bus
I've realised how ruthless people can be! I'm all for giving everyone a chance, but some people just won't do that. I thought that sort of thing only happened in films, but clearly it happens in real life as well."
Would you have considered appearing on a show like this if you were not famous?
"I know that I'm a presenter and I love my job, but actually I'm really shy. I would never go anywhere near something like the
Love Bus
. I've actually got a friend who was on
Take Me Out
and I just couldn't ever do it. I'm always single and never really meet anyone - I'm just really shy. I'd just rather meet someone through a friend of a friend."
Do you still like watching Dancing On Ice after appearing on it in 2009?
"I absolutely love it still! A few of my friends are on it this year as well - Jeff Brazier and Laura Hamilton. But my favourite this year was Elen Rivas. I was gutted when she went out. She was so much fun and had a great personality. She was the best fun ever and I thought she was stunning and absolutely beautiful."
Do you still skate now?
"Unfortunately not. I need some strapping lad to throw me about! It's not as much fun on your own. I try not to think about the rough times on
Dancing On Ice
, I just remember the happy times I had on the show."
The Love Bus continues tonight at 8.25pm on Fiver