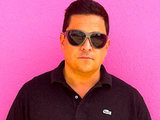 Dom Joly
has dressed up as a squirrel, been punched by Lily Allen, gone on holiday in North Korea and Chernobyl, and was even forced to camp out with Gillian flipping McKeith. Clearly a man who gets bored easily, it's surprising that it's taken him until now to have his own stage show. The TV comic, writer and reality TV star is heading on a nationwide jaunt next month and we caught up with him for a chinwag.
Is it right that this is your first ever time on stage?
"Yes, this is the first time I've pretty much done anything live really. I think everyone has always assumed that I've done it and because I'm a comedian that I've done stand-up. But it has actually been my huge phobia and I kind of thought I should have a go at conquering it. It might be a terrible mistake, but hopefully it will be alright. I've just done a lot of weird things in the last ten years and the idea is to show some of that. I've got weird photos of things I've done, weird holiday snaps and behind-the-scenes stuff off
Trigger Happy
, bits about my few days as a paparazzi, some stuff from the jungle... it's more of an Evening With. That makes it sound a bit like it's with Tony Benn, but it's not."
Have you built up a strong fanbase since doing I'm A Celebrity?
"I don't know if it increased awareness, but I have a very confused fanbase. I think that's another reason I want to do the show. People might think they are coming to see
Trigger Happy
, some may be
Independent
readers, some may want to see me get drunk and others may be fans of the jungle. So I'll try to give them all a bit of everything. There will be a big mobile there somewhere. There will be some slagging off of Gillian McKeith. There will be pictures of me being punched in the face by Lily Allen. Some quite good stuff."
You have had quite the diverse career!
"I was just on BBC Breakfast trying to explain this. My kids came back from school and said that the other kids had asked, 'Is your dad Dom Joly?' So my daughter came back and said, 'Are you Dom Joly?' And they think when I go off to London that I'm going to be Dom Joly. I said this on the BBC and they looked very confused and said, 'Who are you then?' I said, 'Well I am Dom Joly, but it's like a character'. They were like, 'What do your kids call you?' and I said, 'Dad'. So I guess the show is about who Dom Joly is. It's like a weird bit of therapy where I work out what I actually do."
You've done quite a lot of crazy stuff in your time like travelling around North Korea and some of the madder Trigger stunts. What's the scariest thing you've ever done?
"The scariest thing for me is doing press like this and being myself. Other things seem scary, like going to Chernobyl, North Korea and Iran, but when you get there they are not. And doing things like
Trigger Happy
, it's weird because I just presume everyone else would feel the same and not get bothered by it. I just don't find it too scary. I have realised now that some people can't do it, though, in the same way that some people can't just stand up and talk. I get scared by boredom and talking too much about what I do, because I don't think I'm very good at explaining it."
You seemed to think everyone would hate you in the jungle. Were you surprised that this didn't happen?
"I was pleasantly surprised by the jungle, but I had such low expectations. I thought I would either run away on the first day after having a panic attack or I would just hate everyone. But maybe I've just got a bit more mature. I think ten years ago I would have been awful. I was just lucky that the people in there were good, though. It wasn't the usual
Emmerdale
and sports people, there were people that I really got on with. Jenny Eclair was really dark, Shaun Ryder was a real dude and I was really lucky with that. It could have gone very badly wrong in another series!"
Are you a big reality TV fan?
"Yeah, it's terrible. In my position, I think I'm supposed to hate reality TV, but I'm obsessed by it. Not all of them, but well-made reality TV is a real skill I think.
Big Brother
was my favourite. I would never have gone on
Big Brother
, it is too intense and about creating conflict, where as
I'm A Celeb
is about you vs the public rather than each other. I love watching it all. There are a lot of s**t reality shows though. I am trying to put one together actually. When I was in the jungle I recognised the traits of the guy who did the Tree of Temptation on
Big Brother
, because he was the producer on this year's
I'm A Celeb
and he did the spy challenge and things like that. We got on after the show and we're coming up with a reality show that I'm quite excited about."
Can you give us any hints?
"Well, I want it to be a little bit more interesting than just chucking a load of people together. I want something that will f**k with your head a little bit more."
And are you still working on a film?
"We've just finished the last part of the script and we are hopefully filming at the end of the year in America. It will be the
Ben Hur
of hidden camera films. Even though there haven't been any hidden camera films really. I think
Candid Camera
did one in the '70s and it was awful and a bit weirdly sexual. Ours is taking the best bits of flashmobs and doing things with them that isn't a big dance. We've got huge crowd scenes in some of our jokes and rather than paying bored extras, the idea is that people who like our comedy cannot only watch it, you can be in it. I think it's quite empowering."
Is this the film called War of the Flea?
"Yes, it is still called
War of the Flea
, but people keep saying, 'Are you still calling it that?' I wanted to call it
Big Dumb Stupid Movie
but they didn't like that either. The point of it is that there's no point. There is no narrative arc and we've had to fight for that. It's just a big, stupid, fun movie, that's all it is."
Jackass has done pretty well without a plot!
"Well, that's the irony of it. When we first pitched this ten years ago when
Trigger Happy
was happening, everyone went, 'No, no, you can't make a film without a narrative', so we kind of gave up. Then
Jackass
came out and they're on their third one now. I don't really like
Jackass
but there is no storyline and people will go and see that, so it did make it easier for us to pitch it again. But there is something intrinsic about filming people when you meet them, where even if they want to make funny, they like to pretend that it's being artistic and they want some Polish angle. We're just like, 'For f**k's sake, make all the worthy films you want, but this one is going to be big silly and stupid'."
Dom Joly's 'Welcome To Wherever I Am' tour starts on April 12 in London. Tickets are available from www.ticketzone.co.uk