1
TV Interview
Fern Britton ('Fern')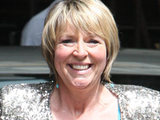 It's frankly astonishing that
Fern Britton
hasn't had her own chatshow up until now. Thank goodness that Channel 4's decided to rectify that! The host of programmes like
This Morning
and
Ready Steady Cook
is currently limbering up for the first live broadcast of her new teatime show
Fern
this afternoon.
Digital Spy
headed over to the set with some other reporters last week to chat to Fern about how she's feeling, which guests she would like and what we can expect from the programme...
What's new about this format compared to other daytime chatshows?
"That's a very good question because how many times can you reinvent the wheel? We've got
This Morning
, we've got
Paul O'Grady
, we've got all of those shows. But we are going to be different, because we're going to be live three days a week so we're going to be much more event reactive. If there's a big story or a big person of the day we will of course cover it. But hopefully with a longer strand to it -
BBC Breakfast
do an interview in three minutes, hopefully we can do it in 15 minutes. We've got such a broad boundary that we can make the show anything we want on that day."
Are you worried about comparisons to Paul O'Grady's show?
"Of course, because Paul is such an individual and he carved out such a brilliant slot for himself in that teatime slot. I'm very fond of Paul as well, and we'd be wrong to try and emulate anything. He can ad lib masterly, he's so funny, he's everything. You have to play to your own strengths and be an individual. I've always tried to carve my own path. Paul is Paul,
This Morning
is
This Morning
, Alan Titchmarsh is Alan Titchmarsh. We're going to try and do something else."
What can we expect next week?
"On Monday we have the lovely Miranda Hart and some incredibly real people - one particular little girl whose story is, I think, very moving. I have asked the team to move away from stories that have just a negative end. Other shows do those things very well. I want people to think, 'God, this person has been through this horror' yet there's a conclusion and you feel satisfied at the end of it. At teatime everyone's coming home... It won't frighten the family. They'll feel they can discuss things without thinking, 'Oh God, that's terrible', because the news does that to us, doesn't it?"
Are you feeling nervous?
"Of course I am! I'd be mad if I didn't feel nervous - I think it's natural. It's nervous excitement. From a personal point of view I want to make it good for the whole team. They've put a great deal of trust in me. They are a fantastic team of young good people thinking up good things."
What made you say yes when you were offered the show?
"The thought of coming to Channel 4 was exciting because I haven't worked with Channel 4 before and it feels like joining the naughty kids a bit, which is fun. It just felt right somehow. I thought, 'Well, we've got the pilot to do first which might be no good. I might be no good. I might have forgotten how to do the programme'. But that went OK so here we are! One step at a time."
Do you have a wishlist of guests?
"Obviously my wishlist is the Queen - and Richard Gere! Richard Gere, for some reason he doesn't feel he wants to currently fly the Atlantic to come over here. I can't understand it. If you see him let him know we'd treat him very well! The Queen, I'm sure as soon as she sees us she'll be desperate to get on - we'll have to be fending her calls off."
Is there anyone you wouldn't want?
"Yes, but I'm not going to tell you who!"
Would you be open to having serious guests like the prime minister?
"Yes, yes, absolutely. Sometimes political interviews can be frightening for us as viewers. The interviewer falls into the trap of using jargon, statistics, percentages... it turns you off as an audience. What you want to know is, 'What the f**k are you going to do about this?' I probably won't say that! But there is a much simpler way of doing those things - that's what I'm very keen on doing."
Would you have Tony Blair on the show?
"I wonder whether he'd come back! Yes, I'd love to. He's a fascinating character. I've interviewed him three times now. He's a brilliant performer - he's utterly warm and charming and then when things aren't quite going the right way he's still charming, but an extra steel comes in as it would with anybody you interview. But I like him immensely!"
Have you had any thoughts about covering the Royal Wedding?
"We had a little chat about that. I'm quite certain that it will be reflected in a Fern-ified way. The Queen is bound to be on the phone at least! She might Skype us. Obviously the BBC, ITV they're going to cover it beautifully but there'll be subversive ways that I'm quite sure we'll do. I'm not going to tell you [what] but we already have quite a nice idea."
Will we be seeing your husband Phil Vickery in the kitchen?
"That's a very nice question! I don't think you will in this month's [shows], because he is very busy right now. Also I think there are contractual obligations to ITV. But I'd love to work with him again."
So who's doing your cooking on the show?
"
Come Dine With Me
is eminently watchable and we all love it and when you do watch it it just takes you over. Those
Come Dine With Me
cooks who have been particularly memorable may well come back and do whatever it was that was their special dish here while running some of the more memorable bits of that show where they embarrassed themselves and behaved awkwardly. That's going to be quite fun. On Monday we do have one of those ladies."
Have you had any particularly embarrassing moments from your career in live TV?
"I think every embarrassing moment is there on YouTube, and most of them from
This Morning
! So many ridiculous things happen on
This Morning
. It's all out there. You get past the point of being embarrassed any more!"
What do you think about the debate regarding ageism in television?
"I think it's always been there - actresses have said for years and years that when they get past a certain point they don't get the lead roles anymore. I think it's very good that more and more of it is being talked about now. I've always tried to keep a low profile about it and I've been very fortunate. I started working in TV when I was 22 so I've never been able to lie about my age."
Is it something you worry about?
"I can only talk about this from a personal point of view, which is that I don't worry about it. I've had a fantastic time. When the time comes that the phone doesn't ring anymore, I will have had my time. I've had my go, let someone else have their go. And I'm almost there!"
Fern begins on Monday at 5pm on Channel 4.