With Phillip Schofield and Holly Willoughby enjoying the mid-term break, the
This Morning
baton has once again been passed to
Eamonn Holmes
and Ruth Langsford. Ahead of their week on the sofa,
Digital Spy
paid a visit to the studio for a chat with the couple - we even got a live on-air mention from Mr Holmes!
Read on to find out what Eamonn and Ruth had to say about working together, interviewing Katie Price and their Twitter followers.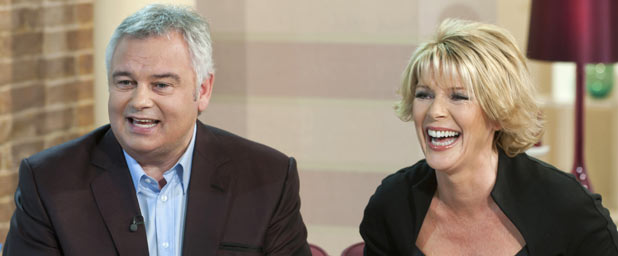 You're taking the This Morning reigns once again this week - is it nice to be back?Ruth:
"Yes, we're back all this week! We obviously did our eight weeks in the summer. This seems to have come around so quickly. It seems to me like [son] Jack just went back to school yesterday, and suddenly he's on half-term. It's like, 'Blimey!'."
Eamonn:
"It's a nice balance. We do nearly do half the year. It works out nicely for us!"
Is working together still enjoyable?Eamonn
: "It's never been enjoyable - who told you that?! I don't remember saying that."
Ruth:
"I don't remember saying that either!"
Eamonn:
"No, it's a privilege. It's so nice. When I look back on my broadcasting career - and I try and say this to Ruth - there's not many people who you would choose to work with. We rarely have a say, and we didn't have a say in this really either. Well I suppose you do, in that you could have said, 'No'. But, it's lovely to work with somebody you love. It can be dangerous because you can become slightly too relaxed. There is that danger."
Is it easy to get carried away and think you're at home with no-one watching?Ruth:
"Occasionally you do forget that you're on TV. You might give away more than you wanted to about your private life - but that goes with the territory, I suppose. Sometimes we do bicker and I go, 'Oh gosh, I must remember I'm on the TV!'."
Eamonn:
"I do think you're very unprofessional from that point of view!"
Ruth:
[Laughs] "There was a lady recently who said to me, 'I was watching you last Friday and I just got the feeling that Eamonn was getting on your nerves'. And I said, 'That's because he was! You're absolutely right'. But people seem to love that. All the people who write to me on Twitter always say how funny it is, and how it reminds them of their husbands. That's what it is. When people say 'bickering', I say 'banter'. Our relationship is like that. We banter all the time. I find it hilarious! Hopefully it doesn't offend people."
Eamonn:
"We've a great phrase back at home in Northern Ireland, which is 'She's got too much to say for herself'. That's Ruth."
Do you think the banter between a couple appeals to This Morning viewers?Eamonn:
"Well I have to say, Northern Ireland is very loyal to us! The viewing figures on a Friday from Northern Ireland go through the roof. I was back home last week doing an awards ceremony and all I get is, 'Where's Ruth?'. I feel like screaming! Give my head peace! It's all I get when I'm without her. There's no chance of me ever having an affair or a secret relationship - everywhere, even in the most discreet places, all I get is; 'Is your wife not with you tonight?'."
Ruth:
"I get that too. I have spies all round the country now to keep an eye on him for me! It's brilliant."
Eamonn:
"Even sitting beside people on the plane or whatever, people will be like, 'Good job Ruth isn't here!'."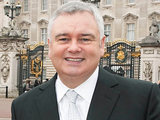 Do you get to spend much time back in Northern Ireland?Eamonn:
"Yes. I still have the house there, and all the family is there."
Ruth:
"Jack and I go too. School can be restricting, but when he was younger I could go over for longer. But also, Eamonn's kids like coming to London. Well I say kids, they're adults now! It changes. Sometimes you're there, other times they want to be here. It's nice to have both options. I do love getting to Belfast and Northern Ireland. The banter and friendliness from people who will actually chat to you on the bus or in the supermarket, which you don't get so much on London."
Among the guests on the show this week is Katie Price - do you enjoy interviewing her?Eamonn:
"I do enjoy chatting to her. She's quite relaxed. I think the thing about Katie is, what you see is what you get. You can love her or loathe her - that's it, and she's quite upfront about that; 'That's the way I am and if you don't like it, whatever'. Not everybody can be like that. And actually, she's quite a beautiful girl underneath all that make-up. She doesn't have to have all that make-up. Obviously she doesn't see herself in that way."
Ruth:
"She's stunning! I love Katie because she never has any restrictions. None of this, 'Don't ask about this, she doesn't want to talk about that'."
Eamonn:
"Unless it's a legal restriction!"
Ruth:
"But there's no preamble where you have to go and soften her up. I always go into her dressing room to say hello. She'll have no make-up on, her rollers in, and she's stunning without make-up!"
You've also just interviewed Alex Reid and Chantelle Houghton. How was that?Eamonn:
"Nothing off limit with them either. Some people are very, very comfortable discussing their lives like that in the public spotlight. They are. They're individually very nice, very friendly people. You can only ever speak as you find."
Ruth:
"Also, I never ever feel compromised. I would like to think that we remain impartial. We do a decent, balance, fair interview with everybody that comes on this show. I don't judge people, it's not my place. It's not why we're here. You hope that you're asking questions that the people at home would be asking if they were sitting there. I don't worry, 'Oh we've had Alex Reid on and Katie's coming in next week, I better be careful what I say'."
Eamonn:
"I asked him a Katie question this morning..."
Ruth:
"And we would ask her the same. I'm sure next week, we will ask her how she feels now Alex is engaged to someone else. That's our job. They know it's our job. So it's like, 'If you don't want to talk about that, don't come on'."
Do you enjoy the thrill of live TV?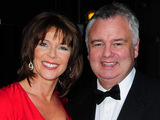 Eamonn:
"I enjoy it to the point where I'm almost phobic about recorded TV. I just think, 'What's the point of this?'. I did a quiz show the other day which had me from 10:30am until 6.30 for a 50-minute programme. For somebody like me, you may as well lock me up in prison and deprive me of water. And then these 10 year olds bring you through a studio. You begin to sound crotchety.
"I love doing documentary filming, and it's fantastic learning different skills and keeping up to date with documentary filming - even
Songs of Praise
, which I also do! Live programming is what I'm known for and what I do. Therefore, you carry the live philosophy through to pre-recorded programmes, because if something is pre-recorded, people - be it sound, light, director, producer, presenter; most people will want to do it three, four, five times."
Ruth:
"There's that edge of excitement with live TV as well. Without sounding too dramatic about it, there is an adrenaline. People ask me if I still get nervous, but not in a way in that I'm thinking, 'Oh I don't know if I can do this!'. The downside to that, like Eamonn said once, is that you're always one comment away from getting the sack!"
Eamonn:
"The cruel thing about it, like the Grand National, is that you could have cleared 42 fences or so, and you're doing so well, you can see that finish line - and then, 'Bang'. That's it. The other fences count for nothing."
You'll be juggling This Morning with your Sky News commitments this week, Eamonn.Eamonn:
"Well, you don't juggle. What you really do is just get up ahead of steam. When I get up at 4am and go in to
Sky News
, you just have three hours where anything can hit you. It can be really draining. I had three hours of an Israeli border crossing into Palestine last week. Suddenly I've got to become an expert on that. It's funny, the things you draw on from your past and your experience - Northern Ireland conflict resolution being one of them.
"The next day you've got the Dale Farm eviction going on, other days you could have a programme that is very like
This Morning
. And then you get Gadaffi. It's an incredible stretch on your mind sometimes, but it's incredibly exciting, privileged thing to do. All these jobs, to be doing them is such a privilege. To be invited into people's homes and to do them, you try to do it correctly. More and more people have opinions, and they let you have them. More and more people want to do what you do."
Ruth:
"The thing is as well, with social media and things now, you're so much more accessible to people. Years ago, somebody would have had to sit down and put pen to paper, put a stamp on it and walk to the post office. If you've said something that's annoyed them, by the time they get round to it, they're not bothered. Now it's email, tweeting - but you have to take that on the chin. We use those social networks to help our show."
Eamonn:
"Television is a much more timid environment now than it ever was when I started out 30 years ago. A much more timid, cautious environment. Everybody knows they can complain, and who to complain too. It doesn't make for better viewing or listening on the radio. They achieve nothing in the end, except to make it much more restricted and stilted."
Do you find This Morning relaxing compared to Sky News?Eamonn:
"There's no difference between any programmes in my view. I'm probably unique in this, but I don't see a difference in kids programmes, sports programmes, news programmes, daytime, nighttime - there's only good or bad programmes. I think you can use all the skills, the technique, the nervous energy that you have to use on programme like
This Morning
. Listen, if I think Fatah and Hamas is out of my comfort zone,
Emmerdale
or fashion can equally be out of my comfort zone. There are so many ways of being tested. It's scary in a nice way. Your sense of achievement is doing a decent job for the people who are watching.
"Last week we had a cookery item which was gnocchi and sage leaves. I have to say, I would have switched over. I'd have immediately switched over. I thought, 'Who is interested in this? Who would eat this?'. It's not a meal. It's something you'd give to a horse or a dog. It was ridiculous. It's like eating putty or plasticine. So in a way, I've become a bit cynical. But then I felt a bit sorry for the fantastic chef who cooked it. I just thought, 'Who thought that one up for her?'. There's reasons why they think things up. Where you succeed in lasting long on television, is to be as bland as possible, and not have opinions. You'll not be criticised if you don't have opinions. But it wouldn't be half as much fun."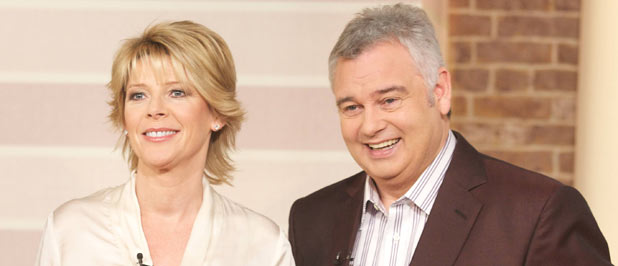 Ruth:
" It's also not honest. Unfortunately, with that cookery item, we both love Silvena's [Rowe] food - and we're very great friends with her. Eamonn might say, 'Oh no, I don't like this', but I'm quite foodie, so normally there's the balance where I'll say, 'I think that's delicious'. But I don't like gnoccie and I can't bear sweet potatoes. So I thought I couldn't stand there and say it was delicious, because I've said a hundred times on this show that sweet potatoes are not for me. I couldn't suddenly lie. I felt really bad with both of us saying we didn't like it."
Eamonn:
"I like to try to keep it real. It's the way I present news as well. It irritates the hell out of me that no-one seems to think they can laugh or get angry around news bulletins or headlines. You just have to have no opinion. It's nonsense. All presenters do. You can see it with their eyebrows or the pomposity with which they stretch their neck. They become as important as the story they are reading. I love the idea of presenting TV like radio - the fluidity, interactivity and lackness of it. Formality can often be the enemy, but it's often the safe path. There's no doubt about it."
So working together must be good for both of you?Ruth:
"Eamonn and I are like Ying and Yang. He pushes me out of my comfort zone. Where I'm quite a good girl and follow the rules - he hates rules. While he pushes me out, which is good for me, I also reign him in a little bit, which is also good for him. With that combination we end up with a very good balance. It's fun and we don't overstep the mark... too often! People see that we have fun. I love this programme. I've loved it since it very first started in Albert Dock, and I was a transmission assistant. I used to watch Richard and Judy then. I'm a real viewer of this show, so for me, getting to work on it was like a dream come true. And still is."
Eamonn:
"I don't see it as our show. It's their show, your show, it's everybody's show out there. Our only job and responsibility is to bring that show to the people who are watching. I often, when out driving, no matter where I'm going, will look at people's houses. a small house, big house, a block of flats, a farmhouse, whatever - I always think what sort of person lives in there. They could be watching us. There are students, old people, young people, rich people, poor people. It's very difficult to try to just say one size fits all. I often do try to make it as real and as accessible as possible. If you can do that, you're on some road to success."
Do you both enjoy communicating with followers on Twitter?Eamonn:
"What I like about Twitter, is that often you can counter what you read on
Digital Spy
! [laughs] It's a great thing in terms of promotion - what's on the programme, the items etc. It's also very good for keeping an interest in you, because it gives people an insight into your personal lives, the connections you make - If ever anything breaks in your house and you can't fix it..."
Ruth:
"When I first got my iPhone it suddenly went off and I was like, 'Oh my God, what's this?'. And Twitter just explained what to do. I do believe that there is a real community spirit on Twitter - one that is lacking in our lives. We all have busy lives. Half of us don't know our neighbours if we live in cities. I believe we'd all like to have that community spirit, but we don't have it."
Eamonn:
"I don't know what community you've got! I've got some right sick b**tards too."
Ruth:
"I like mine! Yes, it's a very good tool as a presenter to say where and when to see me, but my followers respond much more when I'm just talking, such as; 'Oh gosh, how cold was it on the school run this morning?'. And they love that."
Eamonn:
"Or they can be amazed that you're watching the same programmes that they are watching. It's part of what keeps it real. Like
Steps: The Reunion
was my jewel. The amount of people that watched it, and they somehow don't think that I should have been watching it!"
This Morning is defending its crown at the National Television Awards again - do you have a message for readers?Ruth:
"Please do vote for us again. It was a thrill and a joy to receive our award last year. It was a very long time coming. We deserve to win again, absolutely! It's a very tough category, but we know that our viewers out there can do it for us. If you love
This Morning
like we do, please vote for us."
Eamonn:
"Yes, and I need the work!"
Eamonn Holmes and Ruth Langsford present This Morning this week from 10:30am on ITV1. Matt Johnson and Kate Thornton present the Friday edition, during which X Factor duo 2 Shoes will take over duties from The Hub.