The life of a TV warm-up man is so ripe for a sitcom, it seems incredible that it's never been done before now. Comedy newcomer
Tom Davis
has mined the subject with his new Comedy Labs special for E4,
The Warm-Up Guy
, where he plays hapless, idiotic, TV-wannabe Iain Bodkin.
We caught up with Davis to get the lowdown on the show and what a future series may have in store.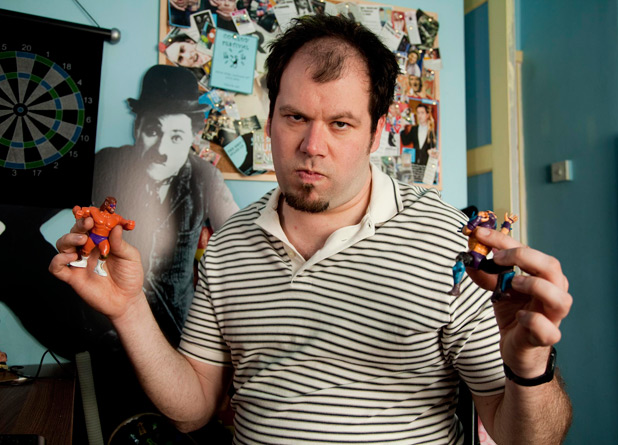 How did the show come about?
"Channel 4 came to us after
Cha'mone Selecta
, which was a
Bo Selecta
special, and asked if we had anything that we wanted to have a go with. We've been building it up since then with a little bit of extra help and money, so it's probably taken about a year and a half."
Have you ever done warm-up?
"I warmed up for a couple of shows a few years ago and we went to watch loads, which was quite odd. They are quite funny about people coming and watching them. We had to go in and pretend we were actually watching the shows. We had some funny run-ins with a couple, who I won't name. They are quite a private group of people."
Were you anything like Iain?
"Yes, I was very much like Iain Bodkin really. I think if you can have a laugh, a joke and be silly with people, that's all that is really. You are just the human buffer between the show and the audience. I enjoyed doing it. It's very different to stand-up. It's a good grounding for TV and I enjoyed it massively.
"The character Iain isn't really mocking warm-up men, it's more about his desire for celebrity. Celebrity is very much what class used to be. He wants fame and thinks if he gets it his whole world will change and be better. He thinks as soon as he gets on TV he'll be dating Alesha Dixon and Kimberley Walsh and everything will be happy."
Who was the character based on?
"It was based on a couple of guys that I saw, but also a few traits of my own. When he goes to a job centre looking for work, that was based on me. When I was first out of work in comedy, I went to the job centre and said that I wanted to do comedy and television. They sent me to Currys and I'm not joking.
"That struggle to get to where he wants to be is what I want the show to be about. Like any great comedy character, whether it's David Brent or Del Boy, it's a person who wants something, but they can't quite grab hold of it. That's what Iain Bodkin the warm-up guy is. He'll never quite get on TV."
It must be quite a frustrating job at times?
"That's the thing with warm-up men. You can have the gig of your life and have audiences wetting themselves. Then all of a sudden your mic is cut off, you're forced to the shadows and everyone forgets about you. That was massively interesting for us. What moves does he make to move up the ladder?"
What's the difference between warm-up and stand-up?
"When you do stand-up you can be edgy and it's your own material. As a warm-up, there's a real art to it. You are not there to do your top material, you are there to get people singing and dancing. There's a real skill to warm-up.
"But some great warm-ups can't do stand-up. Nobody goes to a stand-up gig wanting the comic to say, 'Put your hands in the air and do the hokey cokey'. Likewise, if you do Frankie Boyle stuff as a warm-up, people will say, 'We don't want to hear that filth'."
Are you hoping for a full series?
"Yes, definitely. We've always wanted to know what we want to do with him and take him. This Comedy Lab isn't the first episode. If we did a series, we'd build up to this part of his career and show his early days in the business. It will just be down to the public and what they think if we get a full series. I'm just pleased to have a Comedy Lab. I'm really happy with that."
Who are your comedy heroes?
"Early on it was stuff like
Porridge
and
Only Fools
and then more recently
The Office
, which for me is the perfect sitcom. I'm into American shows now,
Eastbound & Down
and
Modern Family
. All sorts of bits and bobs."
You worked on the Comic Strip reunion last month. How was that?
"It was like all your comedy heroes in one place. Rik Mayall, massive with the
Young Ones
and Alan B'Stard, he was such a big hero of mine, Robbie Coltrane and all these people I've watched growing up. I was taking it all in and picking up advice from them. They were all so lovely and it was a treat.
"Stephen Mangan was one of the nicest people you can ever meet. I'm still new to this game and I really try to take in everything that people are doing around me. I've worked a lot in the past with Leigh Francis and that was a real education for me in comedy acting. He was brilliant to work alongside."
The Warm-Up Guy airs on Sunday, November 6 at 11pm on E4