Ralf Little
, Craig Cash and Michelle Terry are the latest comic stars to reap the benefits of Sky1's bumper investment in homegrown comedy. The trio have taken the spirit of Cash's previous hits
The Royle Family
and
Early Doors
and transported it to the windswept surroundings of a family-run cafe in Weston-super-Mare.
We caught up with writer Ralf Little to find out the inspiration for the show and what he thinks about the legacy of
The Royle Family
.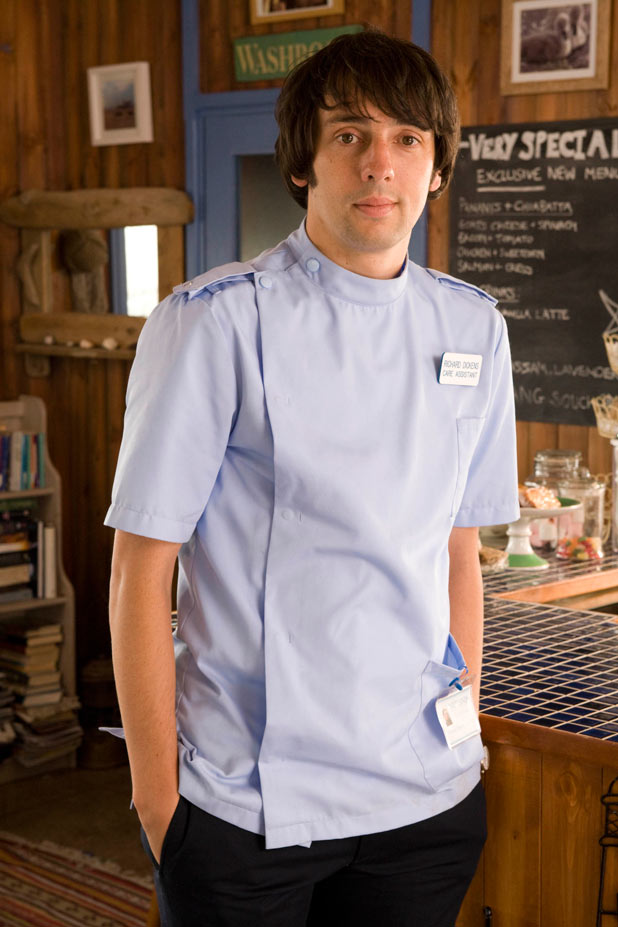 Hello, Ralf!
"Hello, mate. How are you doing? Sorry for the delay. I got chatting to
The Guardian
. I don't think I came across too well because it was too highbrow and intellectual for me."
Don't worry, they're too intellectual for everyone...
"That is true."
How did you come up with the idea for The Cafe?
"Michelle and I, to be honest, we just wanted to write a six-part comedy. The next question was did we want it be studio-based or surreal like
The Mighty Boosh
. I soon realised that I didn't have the imagination for that kind of thing. Eventually we settled on something gentle, dialogue-based and we thought, 'It's been done in a pub, it's been done in a house, I suppose a cafe might work'.
"I think when we had the conversation, we probably were in a cafe. It was just a place for us to hang authentic dialogue and authentic characters. When you are in a cafe there'll often be someone writing something in a corner, everyone has their own lives and everyone's lives are as important to them as yours is to you. All these different lives interlock in this one place and it just seemed the right place to put our people."
The humour is based around the authentic nature of conversations and dialogue of the characters. Was it tricky pitching that right?
"Absolutely. It's tricky when you first start. More often than not, the stuff we put in the show was things we heard verbatim on the bus, or our grandparents or restaurants that we were in. You think, 'This is funny', but the tricky bit is crowbarring it in. In fact, you can't crowbar it in or else it won't bear the hallmarks of authenticity and it just won't work and will probably irritate viewers.
"So it was daunting to try to achieve that. We've still got authentic dialogue to write and jokes to make, and all of this has to be done in 22 minutes without ever breaking the gentle pacing. We basically hit upon a style that was at cross purposes to the format. But we did our best."
The show feels like a cousin of The Royle Family - was it a strong influence?
"It's a tricky one, that. I keep getting asked what our influences are and we did have long discussions about what our influences were and who we admired. We had equally long discussions about what it was about them that we admired. So there was things like
The Office
,
The Royle Family
,
Gavin & Stacey
and
Human Remains
, but the thing we really liked about all of them was the writing and their ability to make the characters work.
"I'm wary about making any sort of comparisons for obvious reasons, but also because it wasn't really a case of us being influenced by any particular show. We just looked at writing we admired and thought, 'That is how we want to construct a character', and, 'That is how we want to tell our joke'."
You've managed to make Weston-super-Mare look lovely. Were you surprised at how it's come out?
"I was definitely. It's Michelle's hometown and she's absolutely thrilled with it. I kept winding her up. When we looked back at the shots, you see these beautifully lit and beautifully shot picturesque places - all on film, which is rare these days - and I'd have a joke with her. I'd be like, 'Michelle, I am beginning to suspect that this is all a ruse for you to single-handedly boost the tourism industry in your hometown'."
Craig Cash is at the helm shooting the show and he's got a bit of a midas touch. What's he like to work alongside?
"Craig was wonderful as well at making it look sumptuous and gorgeous. It would have been easier to shoot it in a studio, but Craig rightly pointed out that if we could get the seafront spot we wanted, it looks so much more authentic. And I think it does look wonderful. We've just filmed scenes and there are passers-by, they're not all extras. Occasionally, we even had people wander into shot or even into the cafe asking for a cup of tea. We'd all feel so bad as one of the runners would go make them a brew.
"Craig said from the start that he would make it as beautiful as he could and we were dead-chuffed with that. However, Craig did warn us, 'It doesn't matter how beautiful it looks guys, it won't make it any funnier'."
What were your writing processes like?
"A lot of trial and error. We'd do almost all of it in the same room together. It wasn't a case of going away and comparing notes. It was a way of staying mates, to be honest. We'd done a play together and we'd become friends quickly so it fell into place quite well.
"We'd just meet up for coffee, like you do with your mates, and just bring our laptops along. It would often just start with conversations about our mothers, 'Oh you won't believe what she said', so that was how we hit on the mother character. The mother who tries to be supportive, but gets it wrong.
"We then moved on from there to the idea of having three generations of women, because we'd never seen that in a TV show before. Then we were also fascinated by the scopes of people's lives. By that I mean, some people think nothing of a round-the-world trip, while others have never left the town that they were born in. There is no actual right or wrong. Happiness is wherever you find it. You shouldn't necessarily judge anyone for that.
"I was also fascinated about a story that Michelle told me when she went to RADA, where her friends were very much like, 'You're going to London, what on earth are you dong that for? Bristol's only down the road. Everything you need is there'. So where we wanted to start it was the person who's been away, failed as a writer and has had to come back and is now thinking, 'Why am I working in my mum's cafe?'"
Did you stay in West Country accents when filming had finished?
"Oh my God, yeah, totally. It would get daft. We'd go back home to the hotel and you'd be playing pool saying things like, 'No way, totally'. I didn't actually speak like that in the show because it's so ridiculous, but we were running around the set shouting, 'No way, totally', at everyone. We never stopped talking in West Country."
Sky has invested hugely in new British comedy. Is there any worry as writers that your show won't be seen by enough people?
"Of course that is the downside. Fewer people have a Sky box so the ratings may not be as good. But you know, we got to make the show we intended to make. This isn't me doing down the other channels, but we were allowed to make the show that we needed to do. It would be a real killer if we now had a show which wasn't like our original intention or that we didn't believe in.
"If people don't like it, me and Michelle know that at no point did we compromise in our heads on quality. We never said, 'That will do'. That doesn't mean it will be a success, it just means we'll have no regrets."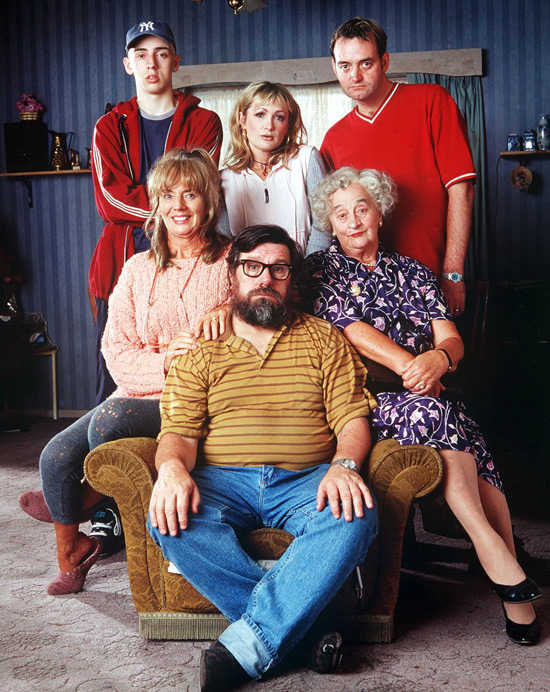 Do you think The Royle Family gets enough credit for the influence and impact it had on British comedy?
"The answer is broadly no, but I'd better qualify it so I don't sound like I'm being miserable about it.
The Office
for me is as close to perfect TV as I've ever seen. I love it, love it, love it. But in terms of its timing, it did kind of stitch
The Royle Family
up. I think, for what it's worth, if
The Royle Family
had finished and then there had been a four-year gap, it would have bedded down as a classic. People would have said, 'I wish there was a new
Royle Family
'. Then
The Office
would have come along and it would have been amazing.
"But what happened was that we finished and
The Office
came along straight away afterwards. We kind of got forgotten. I mean, it's still remembered and loved, but maybe you're right, it doesn't have as strong a memory and status as it should. I know Ricky Gervais has been very generous though. In interviews he said without the show that
The Office
couldn't have even been made because
The Royle Family
broke down so many doors in comedy. But don't get me wrong, I'm not moaning. I'm just really, really proud to be part of it."
We'd best let you get back to more highbrow interviews now...
"To be honest, this was the most highbrow one.
The Guardian
didn't know what they were talking about! Don't print that, whatever you do!"
The Cafe starts on Wednesday (November 23) at 9pm on Sky1