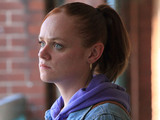 BBC One has a brand new drama for us on Tuesday!
Prisoners' Wives
has a fairly self-explanatory title - it focuses on the lives of a group of women whose loved ones are in prison.
We caught up with three of the show's stars -
Emma Rigby
, Pippa Haywood and Natalie Gavin - to have a little chat about what we can expect from the series.
Read on to find out more about their characters, what surprised them about the lives of real prisoners' wives, and why they felt "girl power" on the show...
Can you give us a summary of what Prisoners' Wives is about?Pippa
: "Well, the title does give it away! It's focused very much on the world of the people who go to visit their loved ones in prison. So whereas in the past we've seen so often a whodunnit leading up to prison, we focus on the whole of the world that's connected with the prison but is life on the outside. It's very much about female friendships and the relationship with their loved ones within that separate situation."
We don't see your characters interact much in episode one - do they start to come together more?Emma
: "I don't really interact with Pippa and Natalie's characters Harriet and Lou. Both form a friendship together and I have quite a close relationship with the character Francesca. But the stories intertwine. It's nice to say it's not a drama where we're suddenly all best of friends, a gang getting the baddies! It's real."
Pippa
: "But they do cross over and reflect on one another, and so very often you're cutting from one storyline to another and there's a reflection or contrast between those stories. And there are a few scenes where we all come together, especially in the security processes and the visiting scenes."
Emma
: "They're really strong because you see they're really different characters and the situation has brought them together and they're in the same room, and that's an interesting idea - that it could happen to any woman."
Pippa
: "And there is a degree of empathy between all of them just because they're going through that process together, so even if their stories aren't closely combined, there's..."
Natalie
: "A common link."
Pippa
: "When I'm a completely new one coming in, Emma's character's already gone through it and she had that time when she was feeling like she was the new one going through it. She just helps me along a bit. So it's that sort of human empathy coming out in lots of parts of it that combines us all together strongly."
Natalie
: "Lou knows the situation, going through the prison. It's all just the norm to her."
Pippa
: "It's more familiar for you, isn't it? And it's very alien for us. And of course..."
Emma
: "Polly!"
Pippa
: "Polly's the real old hand."
Emma
: "She's been there for years."
Pippa
: "She's the real queen bee!"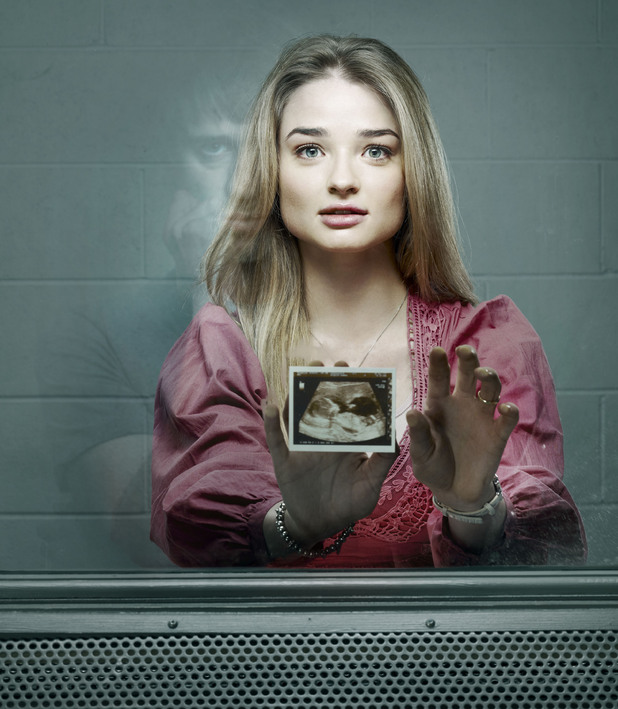 It's alien for us too - like you said, it's not something we see on television much. Did anything surprise you during your research?Emma
: "I think we all visited a prison and I think that was really overwhelming. And suddenly it was really real that this is the world that some people live in. We wanted to do this drama because it was a fantastic project, but then going to the prison it was suddenly, 'This is why we're doing it really, to show this world'. And the idea that the men are in prison but the people they leave behind are serving a sentence and they're having to live with this for however many years. It doesn't go away because when you love someone you're bound to someone, you're tied into that. I think the drama shows that, and going to the prison brought it all together and brought it home as to why this drama was written."
Pippa
: "It also made me realise what a cliched view of prison we often get, where you automatically think all the faces in there look like you expect criminals to look. When we went in what was extraordinary was that you really did see that people can come from all walks of life.
"It doesn't just contain fights and anger and depression and aggression, it also has a beautiful garden that the prisoners have tended fantastically. And cooking classes and humour and relationships that do form that are good between the officers and the visitors and the inmates as well. It just broke open my preconceptions about prison in good and bad ways. I guess it made you really empathise and imagine what it would be like to be in that situation."
Did you speak to any real prisoners' wives?Pippa
: "I did when I went down to my local prison. There was one that really stuck in my mind who was very similar to Emma's character - a very beautiful girl whose partner had been in since she was 17. She was now 26 and she kept trying to break away from him with all her friends saying, 'You've got to get married, you've got to have kids' and she went in to see him and she loves him still and wants to be with him. I really felt for her and she was very open and friendly talking about her situation.
"And another lady came out after about five minutes of the visit in tears and everything suddenly stops and the prison officer who had just been chatting to me about their experiences, they stopped and said, 'Then you have points like that and your heart goes out to them and you can't get away from it'. You realise that the officers do have empathy with the visitors and what they're going through. It was very interesting seeing that whole side of the visitors which we just don't get to see on drama usually."
Emma
: "Especially with women being the leads."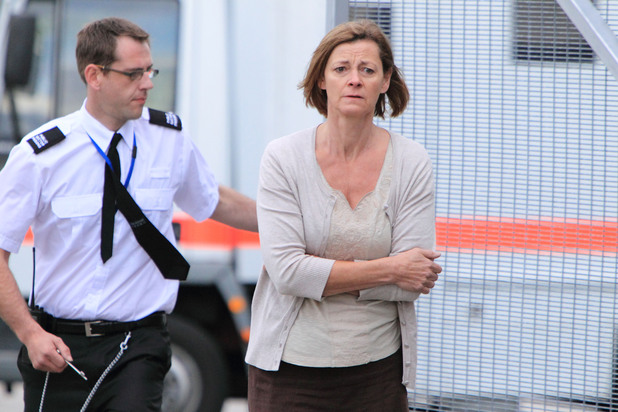 I was going to ask you about that - was it nice being part of such a female-centric show?All
: "Yes!"
Pippa
: "It's fantastic."
Natalie
: "Girl power!"
Emma
: "This is where we all start singing Beyoncé!"
Pippa
: "No, it was. And also a lot of women on the production side and a fantastic female writer. We've all described sitting down with those scripts the first time thinking, 'I would do anything to play this part, this is just so fantastic. It's a woman I haven't seen on television before, it's something new and it brings drama and comedy together'. We were very blessed with those scripts, you don't see them very often."
They are interesting characters - like Lou, she's dealing drugs but you feel sorry for her, don't you?Natalie
: "Oh God, I'm glad that you feel sorry for her! Yeah, she's a troubled girl but she's a very strong character and she just pushes through. She's trying to do the best that she can for her son. She knows that she's doing wrong but women in Lou's situation feel like they have no other way out. She tries her best, she tries to do it the right way but it doesn't work out. She hasn't got much education, she can't really give anything to him with her career, and she doesn't have family or friends supporting her so she can't rely on anybody. So the only thing that she feels that she can do to help herself financially is that, which is as awful as it is but it happens."
Emma
: "I think that's what is so current today with what's happening economically."
Pippa
: "And once you've gone down that road there's no going back, that's the appalling thing. I don't think that we're a society that thinks people can change. It's, 'Right, they've done that' and that's on their record for the rest of their lives and then overcoming that if you want to go up for any job - you're trapped."
Emma
: "Even though the women haven't committed crimes it's almost as if they're ostracised and treated as if they've done something wrong too."
Natalie
: "Lou hasn't even been given an opportunity to have a field or have experience in anything because nobody will employ her. She's got nothing to offer. Nobody's going to give her that opportunity to rise."
We don't see much of Harriet in the first episode - do we find out more about her?Pippa
: "We see more in episode two and then she really comes into her own in episode three. She's a delightful mix of this very shut-off, middle class, awkward, very private person and then I guess the whole process that she has to go through and the challenges she faces really cracks the outside of her shell. You begin to see the potential of this woman and a bit of the light and life that she refers to that she had in her past when she was obviously a bit happier.
"You just hope that things get better for her. Her life begins to grow through the challenges she faces and she has a lot of humour to the fact that she's such a fish out of water. She is forced to do things which no-one should ever ask their mother to do and her process of getting there does lead her into some quite interesting scrapes."
What else can we expect in the show? More drama?Emma
: "It's very funny as well."
Pippa
: "Mine and Natalie's characters get together and obviously it's chalk and cheese. My character's been very shut off so reaching out to Lou's character is very touching. And Lou doesn't like accepting help and is used to being on her own so seeing them both trying to work out this very strange relationship with her delightful little boy, played by Oliver Hannam, who was fantastic. It was his first job, he was wonderful."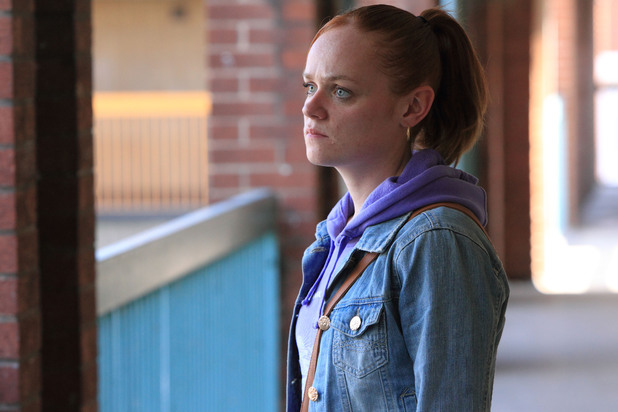 What was it like working with him?Natalie
: "He was a treasure to work with. He had a big personality, he was really bubbly. He was amazing. He was prompting me sometimes! 'You're supposed to be over there', or, 'Stand here'. He learnt so much - he was a fast learner."
Emma
: "I think it's nice because he's from the area where we filmed, and he's just an ordinary boy. He's never done it before and I'm sure he'll want to do it again because he loved it."
Natalie
: "He was a natural. We built a really nice sort of friendship which I think was much needed for me to be able to portray a mother figure, which I was a bit scared about because I'm not a mother myself and I wanted to nail it. We bonded so well and we needed that and we really trusted each other, so for me to cuddle him or for me to be mothering to him, he allowed it because we had that friendship - we had that bond there."
Pippa
: "They were like a little family off set as well as on. They and Reuben Johnson, who played Oliver's dad, would hang out at lunch times together. It was very touching, though - it was a genuine family bond between all of them which developed off screen as well as on."
Why should people tune in to watch?Pippa
: "If you want to watch a show about human relationships that you can really connect with and see some situations and characters on screen that you don't think you've ever seen before, then I think it will be just your cup of tea."
Emma
: "I think it's also a very different piece of television, the style of it as well."
Natalie
: "It's original, and it's nice to have those voices. You don't really have that story being told, and now they've got a voice."
Emma
: "Everyone's actually got a problem in it. It's a drama with real problems."
Pippa
: "But hopefully people will really relate to the characters and enjoy watching their stories. I love the fact that it hasn't got body bags and another whodunnit - it's the human condition and that bond of human beings which I think everyone can relate to."
Emma
: "And as it develops later it's fast-paced, there is excitement there, it is really gripping. I can't wait to watch it!"
Prisoner's Wives begins on Tuesday at 9pm on BBC One.